Larsen Digital Offering Free Sample Scans!
Press Release
•
Apr 28, 2016
Larsen Digital wants to show off their work by offering free sample scans on Negatives, Slides and Photographs.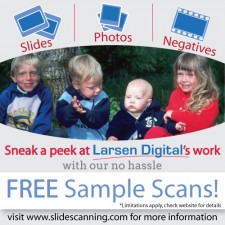 Pleasant View, UT, April 28, 2016 (Newswire.com) - Larsen Digital is offering a sneak peek into their amazing services by offering free sample scans. Deciding which film conversion company to trust with your film can be a hard and emotional decision, which is why Larsen Digital wants to make that choice a little easier. The free trial promotion is good for up to 5 slides, 1 Negative strip –OR- 5 Photos.
When film is submitted for free sample scans, Larsen Digital will complete the digitization of the film, and will perform a standard level of editing to the digital files. Once the images are ready, an email will be sent containing a link where the digital images can be accessed and downloaded. The following film formats are accepted for free sample scans:
Larsen Digital converts film memories worldwide, and wants to help put client's minds at ease with their free sample scanning offer. When a customer can get a preview of what to expect, it takes a lot of the doubt out of the situation and replaces it with confidence in the process.

Christa Hubbard, Marketing
Slides (Up to 5 slides allowed)

35mm Slides
126 Format Slides
110 Format Slides
35mm Half Frame Slides
Super 35mm Slides

Negatives (Only 1 negative strip allowed)

35mm Negatives
Negatives must be in a strip that contains at least two images, and must be no more than six frames in length.

Photos (Up to 5 photos allowed)

Any photo up to 5" X 7" in size
Larsen Digital is confident in the services they provide, and excited about sharing their quality work with all prospective clients. To submit sample scans or for more information, visit slidescanning.com.
Source: Larsen Digital Services