Larsen Digital Now Offering Drop-Off Locations in Box Elder, Weber, Davis, Salt Lake and Utah County
Press Release
•
updated: Nov 13, 2019
Larsen Digital is a professional photo, film, video and audio service company that has been right here in Utah since 1995. Larsen Digital knows that life can be busy and finding a time to bring in items to be converted to digital can be tough. That is why Larsen Digital offers multiple drop-off locations throughout Utah, as a great convenience for their customers.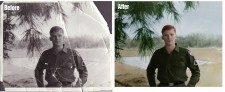 PLEASANT VIEW, Utah, November 13, 2019 (Newswire.com) - Larsen Digital, a photo, film and video conversion service provider has been in the business of preserving family memories since 1995. What once started out as only a slide scanning company has broadened into a full-service scanning company, offering the scanning of slides, negatives, photos, videotapes, movie film, audio reels and audiotapes.
Larsen Digital's main location is located at 1144 W. 2700 N., in Pleasant View, Utah, where they have resided since 2007. Customers are welcome to stop in any time Monday through Friday, 9-5. Orders can be placed in person and all the digital conversion work is done right there at the Pleasant View location.
Larsen Digital is excited to announce that they will be adding another drop-off location in Utah County. Larsen Digital opened their first drop-off location in Sandy, Utah, at Heartfelt Hobby and Craft, located at 407 W. 9000 South Sandy, Utah. Their second drop-off location is located in Bountiful, Utah, at Whisperwood & Co, located at 88 S. Main Street in Bountiful Utah. In 2018, Larsen Digital ventured north and opened a drop-off location in Logan, Utah, at Kaboom Boutique, located at 795 N. Main Street Logan, Utah.
Starting in 2020, Larsen Digital will open another drop-off location in Utah County, residing in Orem and Provo, Utah. This drop-off location will be used as a convenience for customers who live in Utah County and further south. Customer orders will be picked up every two weeks and brought to the main office in Pleasant, where all media will be converted to digital. Once it is complete, all orders will be returned to the specific drop off location in Logan, Bountiful, Sandy, Orem or Provo.
As a family-owned company, Larsen Digital knows the importance of not only preserving family memories but also the importance of using top-notch equipment which provides the highest quality results.
Larsen Digital is in Pleasant View, Utah, and their store is open to the pubic during regular store hours. They scan all types of old media, such as slides, negatives, photos, movie reels, videotapes, audio cassettes, audio reels and much more.
Visit https://larsendigital.com for more information about the new slide conversion service.
Source: Larsen Digital