Lancement Mondial Du Programme TRAIN WITH VAN DAMME
Jean-Claude Van Damme lance un programme d'entraînement sportif de 8 semaines, TRAIN WITH VAN DAMME, sur jcvdworld.com Entraînez-vous avec Jean-Claude Van Damme quand vous voulez, où vous voulez.
Press Release
-
updated: Nov 28, 2017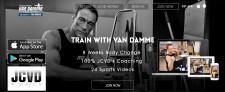 Paris, France, November 28, 2017 (Newswire.com) - Jean Claude Van Damme a créé un programme d'entraînement sportif puissant et efficace de huit (8) semaines, disponible exclusivement sur le site dédié www.jcvdworld.com ou via l'application JCVD-Trainwithvandamme disponible sur l'Apple Store ou sur Google Play pour 19,99 USD.
Produit en partenariat avec Antoine Henriquet, président la société Française Ah! Production, le programme met l'accent sur le tonus, la flexibilité et l'équilibre.
Le programme propose trois (3) vidéos hebdomadaires, où Jean-Claude Van Damme enseigne aux internautes comment sculpter leur corps sans équipement professionnel. L'objectif des deux premières semaines est de préparer ses muscles pour l'entraînement en apprenant à s'étirer correctement, puis le travail de musculation commence. "Prenez votre temps quand vous commencez à faire de l'exercice", déclare Van Damme, "et entraînez-vous à votre propre rythme."
La méthode de la star peut être différente de celle à laquelle les utilisateurs sont habitués, mais il rappelle à ses élèves, "mon corps est votre meilleure preuve."
Jean-Claude Van Damme sera à l'affiche dans la série « Jean-Claude Van Johnson », disponible sur Amazon Prime le 15 décembre.
Pour utiliser TRAIN WITH VAN DAMME :
Site Web: https://www.jcvdworld.com
Application iOS / Apple Store: https://goo.gl/Wy4Eb5 Application Android / Google Play: https://goo.gl/UzuaWQ
Toutes les informations TRAIN WITH VAN DAMME sur le site : https://www.jcvdworld.com 
Source: JCVDWorld.com
Share:
---
Categories: Celebrities, Exercise and Physical Fitness, International News, Sports News
Tags: JCVD, Jean-Claude Van Damme, Jean-Claude Van Johnson, musculation, sculpter leur corps, sportif
---