Lake Tahoe Community Art Hikes
Press Release
•
Jul 6, 2016
Inspired Climbs Await at Art + Nature + Community Art Hikes by Trails & Vistas Located in the majestic Sierras, Trails & Vistas plays host to a collective experience where art, nature and audience intersect. Every year, the nonprofit of Trails & Vistas brings artists, dancers, and musicians from all over the world into the Lake Tahoe region. Guides will lead three-hour long guided interactive hikes starting in 15-minute increments winding through 12 site-specific art installations. Participants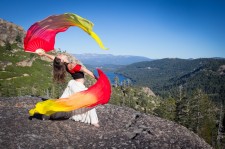 Truckee, California, July 6, 2016 (Newswire.com) - Ever looked beyond the bark of a tree or swirl of a climbing vine to see the beauty of the elements that make up nature? Trails & Vistas is presenting the opportunity to do just that at their Art + Nature + Community Art Hikes scheduled September 10 and September 18.
WHAT: Art + Nature + Community Art Hikes
WHEN: September 10, 2016, Starting at 9:00 a.m.
WHERE: (New trail!) North Canyon Trail at Spooner Lake State Park
In the summer months the artists are invited to walk the trail to find a site for an original artwork, poem, song, or dance. It is our vision to create an artwork inspired by the environment, which is specific and temporary.

Nancy Tieken Lopez, Founder
WHEN: September 18, 2016, Starting at 9:30 a.m.
WHERE: (New trail!) Donner Summit at Donner Ski Ranch
TICKETS: May be purchased at trailsandvistas.org
Children (ages 5 to 12) - $12
Adult $45
Trails & Vistas Art Hikes -Located in the Sierras, plays host to a collective experience where art, nature, and audience intersect. There are a dozen site-specific art installations, with music, performance art, ephemeral sculpture, and literary arts placed along a earthen trail for hikers to discover on a three-mile Art Hike.
Each hiker is encouraged to slow down, read the poetry hanging from the limbs, touch the trunks and bark, close one's eyes to enjoy a ballad or poem, breathe deeply and listen for the language of nature.
Hikers may find small sculptures that are hidden in unsuspecting locations, performances that weave seamlessly around the boulders, into the trees, taking advantage of nature, while becoming, it seems, nature itself. "With every step, I felt the snares of the world breaking away to experience the perfect blending of nature and art." Says attendee Val Fern
Every year the experience is new, the founder, Nancy Tieken Lopez, collaborates with over thirty artists to create impermanent environmental art installations that re-envision the viewers relationship to nature, and involves collaborations between artists and others, such as scientists, musicians, poets, community groups and the audience.
"In the summer months the artists are invited to walk the trail to find a site for an original artwork, poem, song, or dance. It is our vision to create an artwork inspired by the environment, which is specific and temporary." Said Tieken Lopez
Nancy Tieken Lopez, will create "Woman Spirit Riving" with performance art, poetry and the visual form of the earth spiral, Tahoe performance artists Lesley Ehrenfeld Chapman will collaborate with dancers in an performance art piece for the North Canyon Trail at Spooner Lake State Park, Lake Tahoe, NV. Featured guest Marin artist, Angelique Benicio, will create a site-specific installation with performance art, sculpture and original costuming.
All artists play with the theme of "The Journey Itself is Home" which is the last line of a poem by Matsuo Basho who wrote the poem over 300 years ago. "each day is a journey, and the journey itself is home." The theme offers freedom to both the artists and viewer to interpret meaning of the art and place. "The art hikes are a journey of art in nature that fill us to the brim with an awareness and serenity and leaves us searching to hear more, see more and feel more," shares Tieken Lopez.
The art hikes began in the 1990's as Tieken Lopez's MFA thesis project at Alum Rock Park, in the rolling hills of San Jose, California. "The first art hike was created to take art into nature, to form a connection between place, art, and people. Placing art in the beauty of nature is a gentle reminder of our need to protect it. There is a common thread running through all of my recent work-the water and land, celebrating nature with the use of poetry, art, and music. Each art hike uses the participation by the individual to experience the art as a sensual, intellectual, and often a spiritual experience." says Nancy Tieken Lopez.
In 2004, with the help of Elizabeth Archer, co-founder of InnerRhythms Dance Theater, Terry Yagura founder of art programs for local students, and the Truckee Donner Land Trust, the first Truckee Tahoe Art Hike was born in Upper Gregory Creek Canyon, California.
"Thirteen years later the purpose of the art hikes continues to reestablish bonds between individuals and others, and individuals to nature.. Through the participation of the audience, the role of artist and viewer is blurred to create a small community that walks, listens, and moves together, interacting with art and quieting the mind to be in the moment. " says Tieken Lopez
Jay Howard, park supervisor of Lake Tahoe Nevada State Park said "Nevada State Parks is proud to collaborate with, and support, the activities of the Trails and Vistas organization. The Art Hikes, Art Hikes for Schools, World Concert, and other various hikes done at Sand Harbor and Spooner Backcountry is a gratifying and unique way to enjoy the great outdoors. The way Trails and Vistas joins art and nature in an outdoor setting is simply an experience that you must have."
A new experience is created each year. In 2016, the art hikes will be at two locations to offer artists and viewers an unique way to interpret the landscape, with art hikes at North Canyon Trail, Tahoe, Nevada State Park on September Saturday, 10th and Donner Summit on Sunday, Sept. 18th, near Truckee, California. Trails & Vistas has expanded to two weekends with art hikes, world concert, and art workshops.
What to expect, Guides will lead the three-hour long hikes including nearly a dozen featured stops. Hikes are offered every 15 minutes for morning and afternoon hikes spanning two weekends, and include no more than 24 people per group. Hikers should be comfortable traversing over terrain at high elevations. Specialty hikes include family hikes for those hiking with children, meditative hikes for those seeking an especially quiet and spiritual connection (adults only), and leisurely hikes for those needing a slower pace. Advance ticket purchase is highly recommended because the event sells out every year.
ABOUT TRAILS & VISTAS
Trails & Vistas is a 501 (c)(3) nonprofit with Art Hikes, The World Concert: A Peace Project of Truckee Tahoe, Art in Nature school field trips, guided summer hikes, and art and dance workshops. Trails & Vistas mission is to create community by celebrating the arts and nature.
For more information or to purchase tickets for the art hikes or the concert, visit trailsandvistas.org.

Source: Design on Edge
Related Media
Additional Links