Lady Gaga Drone Show Creates Buzz for Indoor Drone Shows for Corporate Events
Indoor dancing drone entertainment is mesmerizing audiences at corporate and private special events of all kinds.
Press Release
-
updated: Feb 14, 2017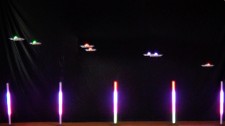 Houston, TX, February 14, 2017 (Newswire.com) - Lady Gaga's halftime show featured hundreds of flying drones creating aerial images including the American flag. However, large-scale outdoor drone shows making images isn't the only way to excite audiences with drones.
Indoor dancing drones shows are engaging audiences at corporate and private special events looking for futuristic experiences with new technology. Using fleets of airborne craft, artists and technicians are creating a ballet of movement in mid-air, unlike anything that has ever been seen.
Aerial Drone Shows are TAKING OFF all over the world!
While theme parks are testing shows and dazzling crowds with choreographed, world record setting, LED light drone shows, TLC Creative brings dancing drones indoors. Dancing drone shows featuring LED light effects, music and performers are becoming hugely popular for the Los Angeles based technical production company.
"People are drawn to our dancing drone shows because they have never seen anything like it." says Kevin Bilida of TLC Creative;  "Its a brand new technology, and it is being used in an artful and creative way that adds to the magic."
Drones with camera tracking allow a VIP or CEO to enter an event with live video streamed from the drone and broadcast on all the event screens. This exciting entrance using live video from an aerial drone is just the beginning of a new era using drones for exciting visual effects.
"Drones is a word that underestimates the drama of what is really a miniature helicopter," says Scott Anderson at TLC. "Seeing an aircraft, or a fleet of aircraft, hovering in mid-air is fascinating to see in person. It's absolutely eye-catching to see new technology in action."
Lady Gaga's halftime drone LED effects were seen by millions, a trend that will go huge this year. Drones are becoming more affordable and the latest technologies allows one pilot to operate multiple drones at once. This makes drone entertainment affordable for corporate and private events of all sizes. 
For more info, visit the website TLC Creative AIR - drone shows, flying cameras, helicopters, 4K aerial photography, event services
Explore other technologies for live events at TLC Creative
Contact TLC Creative (www.TLCisCreative.com | 310-822-6790 or 800-447-3585) for drone entertainment or for live special effects for special events.
Email Inquiries to TLC@TLCisCreative.com
Source: TLC Creative
Share:
---
Categories: Advertising and Public Relations, Conventions, Trade Shows, Meetings and Events, Arts and Entertainment
Tags: aerial drone show, drone entertainment, drone show, drones, flying drones, Lady Gaga, Super Bowl
---