L Squared Awarded Corporate Digital Signage Contract From the Toronto Transit Commission
Press Release
•
updated: Mar 28, 2019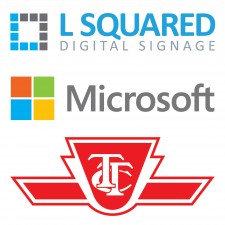 TORONTO, March 28, 2019 (Newswire.com) - The L Squared Corporate TV Content Management System (CMS) has been selected by the Toronto Transit Commission (TTC) for deployment across TTC facilities. It will be used as an internal communications platform to inform, engage and empower TTC staff.
L Squared was awarded the narrowcasting contract in late 2018 and will be deploying the solution across all corporate TTC buildings throughout 2019 and beyond. The decision was made in part, due to the flexibility and unique features that the L Squared solution provides to TTC for managing multiple tiers of users, rule-based scheduling and integration with third-party databases such as SAP. L Squared's solution is built on Microsoft's IoT platform utilizing Microsoft Azure. The partnership will allow the TTC to leverage L Squared technology to better service their internal communication needs.
"This is a big win for L Squared. The Toronto Transit Commission is recognized as the third largest transit system in North America. Our team worked hard to ensure our solution was designed to fit the requirements of TTC today, while deploying forward-thinking technology that will service TTC's organizational needs for years to come," says Gajendra Ratnavel, President, L Squared Digital Signage.
About L Squared
L Squared and Microsoft are global co-sell partners offering a complete marketing and communication solution utilizing Microsoft's IoT technology and Microsoft Azure in the L Squared Hub Corporate TV solution. L Squared was founded in 2007 as an Interactive software company. Over the course of the last decade, L Squared has become a leader in the Digital Signage and Communications Industry. With operations spanning 4 continents, the company continues to grow and help customers improve their communication programs in many industries.
For PR or Marketing Inquiries please contact Brent Nacu at BNacu@LSquared.com or 512-852-4355. www.LSquared.com
Source: L Squared