KWS Joins the Thought for Food Inner Circle
Leading global seed company signs multi-year agreement to support the Thought For Food Foundation and the next generation of innovators for food and agriculture.
Press Release
-
updated: Jul 3, 2018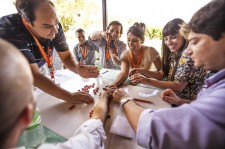 BASEL, Switzerland, July 3, 2018 (Newswire.com) - Thought For Food (TFF) is pleased to announce the newest member of it's Inner Circle: KWS SAAT SE.
The TFF Inner Circle brings together a select group of visionary food and agriculture companies to support Thought For Food's charitable mission to engage and empower the next generation of innovators for food security.
KWS has committed to sponsor the Thought For Food Foundation over the next three years. Together, KWS and TFF will focus on supporting and accelerating the innovative ideas and start-ups that are developed by young people around the world through the annual Thought For Food Challenge, and they will translate the next generation's mindset and attitudes regarding the food system and desirable futures of work into the priorities of the company.
Established in 2018, the TFF Inner Circle unites established food and agriculture corporations with TFF's global community of next-generation innovators from more than 160 countries. Driven by a shared objective to transform the global food system, the diverse and influential partners that comprise the TFF Inner Circle share ideas, learning, and experiences, as well as experiment with open and collaborative business models on how to feed and nourish 9+ billion people by 2050 and beyond.
Florian Bruhns, Global Lead for Talent Sourcing and Employee Branding at KWS states:
"We're thrilled to become a TFF Inner Circle Member and to support this important global movement. The TFF Inner Circle is a unique, pre-competitive industry collaboration forum that offers a space to meaningfully engage with the next generation of leaders in food and agriculture, and work together to address our sector's talent, reputation and innovation challenges."
Christine Gould, Founder and CEO of Thought For Food emphasizes:
"We are excited to work closely with KWS, and to help the company tap into and leverage the mindset, attitudes, and approaches used by the next generation innovators around the world to unleash opportunities for value creation and positive impact."
Thought For Food runs the annual TFF Challenge, which provides educational tools and resources such as an online Design Thinking Lab and a mentorship platform to catalyze new food and agriculture-focused social enterprises. From 23-26 July 2018, TFF is launching the TFF Academy, a 4-day education program, which will be followed on 27 July by the organization's flagship event, the TFF Summit. Both events are being held this year in Rio de Janeiro, Brazil, where KWS and TFF will be presenting their new partnership as one of many shared experiences and projects.
Please find more information at www.thoughtforfood.org
About Thought for Food:
The Thought for Food Foundation is the leading global organization dedicated to engaging and empowering the next generation to solve the complex challenges facing our food system. We work with entrepreneurs and innovators under the age of 35 in over 160 countries, and connect them with some of the biggest companies in the industry to co-create new solutions, start-ups, and dialogue opportunities. Thought For Food is a 501c3 non-profit entity. For more information: www.thoughtforfood.org. 
About KWS:
KWS is one of the world's leading plant breeding companies. In fiscal 2016/17, 4,950 employees in 70 countries generated net sales of EUR 1,080 million and earnings before interest and taxes (EBIT) of EUR 132 million. A company with a tradition of family ownership, KWS has operated independently for more than 160 years. It focuses on plant breeding and the production and sale of seed for corn, sugar beet, cereals, rapeseed, and sunflowers. KWS uses leading-edge plant breeding methods to continuously improve yield and resistance to diseases, pests, and abiotic stress. To that end, the company invested EUR 190 million last fiscal year in research and development, 17 percent of its net sales. For more information: www.kws.com; follow us on Twitter.
*All figures exclude the companies carried at equity AGRELIANT GENETICS LLC., AGRELIANT GENETICS INC. and KENFENG – KWS SEEDS CO., LTD.
Source: Thought For Food Foundation
Share:
---
Categories: Agriculture and Horticulture
Tags: Ag Tech, Food Innovation, Food Security, Food Tech, Future of Food, Millennials, New Leadership, Social Impact, Startups, TFF Challenge
---