Thought For Food Onboards a New Cohort of TFF Ambassadors to Activate Food System Transformation Globally
Press Release
•
updated: Jun 14, 2019
Four Hundred Next-Gen Leaders Selected to Carry Forward TFF's Mission in 200 Cities Around the World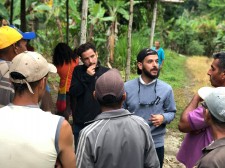 BASEL, Switzerland, June 14, 2019 (Newswire.com) - ​​​​​The Thought For Food (TFF) Foundation is expanding its global footprint with the addition of 400 Ambassadors who are tasked with multiplying the organization's mission and impact in more than 200 cities across the globe.
The new cohort of TFF Ambassadors represents 65 countries around the world and will work closely with TFF's Regional Coordinators as committed "boots on the ground" - helping to identify and develop strong relationships with promising talents and startups that can benefit from TFF's entrepreneurial training and acceleration programs.
The TFF Ambassadors were chosen from a pool of nearly 2,000 applicants after going through a rigorous pre-selection process that included a four-week trial period focused on testing their practical skills, collaborative spirit and commitment to join TFF's global community. As part of the trial period, the pre-selected TFF Ambassadors carried out over 500 grassroots activities to raise awareness about food and agriculture issues in their local communities, including farm tours, documentary screenings, discussion sessions, sustainable dinners, recording of podcasts and TV interviews.
"Becoming a TFF Ambassador is a great opportunity to create positive impact," says Fernando Salerno, a TFF Ambassador selected from the Venezuelan capital Caracas and co-founder of Níspero, an organization which connects isolated small-scale farmers in rural areas, helps them to reach markets and supports them in regenerating depleted soils. "This role gives me the resources to expose the Venezuelan crisis and the opportunities connected to it, to work with the innovation community around me and to raise awareness about the pressing food and agricultural challenges we face here in my country."
Despite facing severe gas, electricity and water issues in his country, Fernando and his team of TFF Ambassadors found creative and impactful ways to share the TFF story, including conducting interviews on one of the most-viewed national TV programs, as well as on a radio show focused on entrepreneurship. They also ran several workshops for small-scale produce farmers and business peers focused on community-based sustainable farming practices.
"It has been inspiring to watch the TFF Ambassadors demonstrate such passion and commitment to our cause throughout the trial period. These are a diverse group of talented leaders who are joining our global community, ready to share their experiences, expertise and local networks in supporting TFF's mission," stated Sujala Balaji, TFF Regional Coordinator for North America and founder of Kosha Foods, a Canadian startup for plant-based protein alternatives. "I am very excited and look forward to working with them in building stronger regional communities and collectively working towards the global challenges facing food and sustainability."
The TFF Ambassadors will play an important role in recruiting innovative food and agriculture projects from every part of the world to join the next edition of the annual TFF Challenge on Oct. 16 (World Food Day). This year, TFF Challenge participants will gain access to the all-new TFF Digital Labs, the world's first 21st-century learning and startup accelerator program optimized for next-gen entrepreneurs in the food and agriculture sector.
Interested to learn more about TFF's work as the world's next-generation innovation engine in food and agriculture? Want to get involved in TFF's global community of purpose-driven entrepreneurs or explore partnership opportunities and other ways to support our mission? Follow our activities on Facebook, LinkedIn and Twitter or directly reach out to us via email.
About Thought For Food:
Thought For Food is the leading global organization to engage, empower and support the next generation to solve food and agriculture's biggest challenges. To date, we have worked with over 15,000 next-gen talents in 160 countries, helped to catalyse thousands of ideas and have launched 50 startups on all continents and across all parts of the value chain. Our comprehensive suite of industry-shaping programs includes the TFF Challenge, the TFF Digital Labs, the TFF Academy and the TFF Summit. We help build talent, develop new innovations and raise the reputation of the industry as a whole. Thought For Food is a 501(c)(3) non-profit entity. Find out more about Thought For Food at https://thoughtforfood.org.
Source: Thought For Food Foundation
Related Media