Kitaro Launches His Worldwide TOUR -- "Kojiki and the Universe" LIVE April 20th at the Showcase Theater in San Rafael, California
Kitaro's new DVD, Kojiki and the Universe is An Experiment in Merging Music with Movies of the Universe and is Available April 21st while Kitaro's All New Music Release, "Sacred Journey of Ku-Kai Volume 5" To Be Released on April 21st on the Heels of the Grammy-Award Nominated Volumes 1-4
Press Release
-
updated: Mar 14, 2017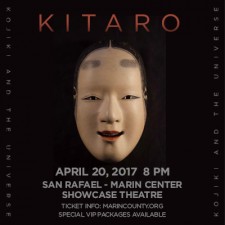 Los Angeles, CA , March 14, 2017 (Newswire.com) - Always the innovator, Kitaro will tour the globe in 2017 beginning with an intimate concert on April 20 in San Rafael, California. International performances will then commence in London, Istanbul, Ankara Turkey, Brasov Romania, Bucharest, Sibiu and Sofia. Simultaneously, the Grammy and Golden Globe winning artist is releasing two new projects, the tour inspired DVD, Kojiki and the Universe and new music, Sacred Journey of Ku-Kai Volume 5.
https://tickets.marincenter.org/eventperformances.asp?evt=213
Presenting a totally unique visual experience, the LIVE in CONCERT presentation of "Kojiki and The Universe" merges Kitaro's Grammy nominated music from the album "Kojiki" with dynamic space-age photographic scenes of the Universe. "Kojiki and The Universe LIVE" features time-lapse images, expertly intertwined with real-time films provided by and in cooperation with NASA and Kyoto University. Watch: https://vimeo.com/203334544
The debut of the LIVE concert experience in San Rafael will offer exclusive and access to the artists via a KITARO VIP EXPERIENCE which includes Gold Circle seating, an intimate wine and cheese post-concert reception with Kitaro, an autographed tour poster, a Kojiki & The Universe DVD signed by the artist and personally autographed copy of Kitaro's newest Domo Music CD release, Sacred Journey of Ku-Kai Volume 5.
Created by Kitaro in collaboration with Astronomy Professor Kazunari Shibata, the entire DVD production of Kojiki and the Universe was developed using modern film editing techniques, as well as state-of-the-art hardware and software.  In Japanese mythology, Kojiki is a story closely related to evolution of the universe. It describes the origin of Heaven, Earth and the creation of the Gods. Utilizing Kitaro's "Kojiki" score as the soundtrack, "Kojiki and The Universe" is a chronicle of astronomical research as well as a beautiful introduction to modern astronomy for everyone.
Also released on April 21st, Kitaro's Sacred Journey Of Ku-Kai Volume 5 follows the highly acclaimed Volumes 1-4 of the series, all of which have earned the artist Grammy nominations.
Having received Grammy nomination for volumes 1-4, Volume 5 is presented by Kitaro's long-time label, the Domo Music Group (www.domomusicgroup.com). The Ku-Kai series concept arose after the global events on the fateful day of September 11, 2001. Kitaro was traveling on a jet from Japan to Los Angeles when the transcontinental flight was diverted to Hawaii for 5 days due to the tragedy. It was during this time of disbelief and uncertainty that Kitaro envisioned the Ku-Kai series as a means of uniting the world through music embracing his frequently referenced universal message of peace.
The Sacred Journey of Ku-Kai series is an earthly voyage that transports the listener to the eighty-eight sacred temples located on Shikoku Island in Japan, ancestral home of the beloved Buddhist holy man Ku-kai. The music, which pays homage to the true to life excursion made over 1100 years ago on Shikoku Island endures to this day. Each track on the album revolves around the unique bell sound from the individual temples, using actual sampling and Kitaro's inspired musical interpretations and distillations of their essences. 
The Ku-Kai series is comprised of "Sacred Journey Of Ku-Kai Vol. 1" in 2003, "Sacred Journey Of Ku-Kai Vol. 2" in 2005, "Sacred Journey Of Ku-Kai Vol. 3" in 2007, and "Sacred Journey Of Ku-Kai Vol. 4" in 2010. The global admiration for Kitaro and his music that unites the world is, of all things, real and constant.
4/20 San Rafael, CA @ Marin Center
4/27 LONDON @ Eventim Apollo
4/29 ISTANBUL, Turkey @ Zorlu Performans Sanatlari Merkezi
4/30 ANKARA, Turkey @ Congresium Ankara
5/2   BRASOV, Romania  Tickets will be available soon.
5/4   BUCHAREST, Romania   Tickets will be available soon.
5/6   SIBIU, Romania   Tickets will be available soon.
5/9   SOFIA, Bulgaria @ National Palace of Culture, Hall
Instagram: www.instagram.com/officialkitaro
Facebook: https://www.facebook.com/Kitaro
Twitter https://twitter.com/Kitaronetwork
Spotify https://open.spotify.com/artist/6CTNhXJKT6SdsQspUDIGiY
#   #   #   #
http://www.oneavenue.tv/domorecords
Media Contact 323.788.0741 and Handsonpr@aol.com
Source: Domo Music Group
Share:
---
Categories: A&E News, Music, Performing Arts, Artists, NightLife, Live Performance, Event Lighting, Sound, Sets, and Production, Mixed Media
Tags: Kitaro, Kitaro Worldwide Tour, Kojiki and the Universe, Sacred Journey of Ku-Kai Volume 5
---