Kitaro Captures His 17th Grammy Award Nomination in the Best New Age Album Category
Founder of the New Age Movement, Kitaro Garners His 17th Grammy Award Nomination in the Best New Age Album Category. Kitaro Honored for His Album, The Sacred Journey of Ku-Kai, Volume 5 at the 60th Annual Grammy Awards Ceremony taking place January 28, 2018 in New York City
Press Release
-
updated: Nov 29, 2017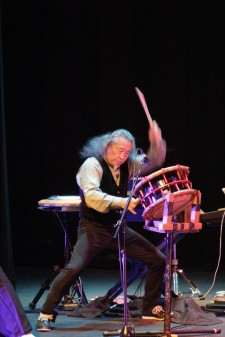 New York, NY, November 29, 2017 (Newswire.com) - For the 17th time, Golden Globe and Grammy-Award winning composer, musician and recording artist Kitaro has captured a Grammy Award Nomination for this year's 60th anniversary of the Grammy Awards. Kitaro's Best New Age Album Grammy nomination is for his full-length album release Sacred Journey of Ku-Kai, Volume 5.
Commenting on his Grammy nomination, Kitaro said, "I want to thank all of the Grammy, NARAS and Recording Academy members and voters, as well the entire Domo Records team for making this my 17th Grammy Award nomination a reality. I am extremely proud of this project and am pleased to have it received in such a positive manner."
Sacred Journey of Ku-Kai Volume 5 follows the highly acclaimed Volumes 1 through 4 of the series, all of which have earned Grammy nominations. The Ku-Kai series concept arose after the global events on the fateful day of September 11, 2001. Kitaro was traveling on a jet from Japan to Los Angeles when the transcontinental flight was diverted to Hawaii for five days due to the tragedy. It was during this time of disbelief and uncertainty that Kitaro envisioned the Ku-Kai series as a means of uniting the world through music embracing his frequently referenced universal message of peace.
The Sacred Journey of Ku-Kai Volume 5 release is an earthly voyage that transports the listener to Shikoku, Japan. It pays homage to the beloved Buddhist holy man Ku-Kai who traveled the 750 mile long pilgrimage to the eighty-eight sacred temples on the island over 1100 years ago. Each track on the album revolves around an audio sample of the bell sound from each temple. With these bell sounds, Kitaro distills their essences with inspired musical interpretations.
The final round of Grammy voting takes place from December 7th through the 21st. The Recording Academy will present the Grammy Awards on Sunday January 28th live from Madison Square Garden in New York. The festivities will be broadcast on the CBS Television Network from 7:30-1100pm Eastern Time and 4:30-8:00pm Pacific Time.
See all of Kitaro's Grammy Award Winning & Nominated Projects: https://www.grammy.com/grammys/artists/kitaro
Kitaro on Tour: Kitaro's international "Kojiki & The Universe" Tour played to capacity audiences this year in exotic locations including London, Istanbul and Romania. The Grammy and Golden Globe Winning artist returned to the West Coast with a unique tour of sacred venues, including a rare performance in Los Angeles on November 17. A Totally unique visual experience, the LIVE in CONCERT production of "Kojiki and The Universe" merged Kitaro's Grammy nominated music from the album "Kojiki" with space-age  photographic scenes of the Universe. "Kojiki and The Universe LIVE" featured time-lapse images, expertly   intertwined   with   real-time   films   provided   by   and    in cooperation with Kyoto University's Astronomy Professor Kazunari Shibata, NASA, and The Hubble Space Telescope. Taiko drumming and Butoh dancing enrich the program which will appear internationally in December.
Listen to all things Kitaro at http://www.domomusicgroup.com/ and watch Kitaro performances at www.youtube.com/kitarotv
https://www.domomusicgroup.com/kitaro/
https://www.facebook.com/officialdomomusicgroup
#   #   #  #
Media Contact: 323.788.0741 | Handsonpr@aol.com | www.expertiseinmedia.com
Source: Domo Music Group
Share:
---
Categories: A&E News, Celebrities, Music, Conventions, Trade Shows, Meetings and Events, Radio Programs, Awards
Tags: 60th Annual Grammy Awards, Domo Music Group, Grammy Awards, Grammy Awards on CBS, Kitaro, Kitaro Sacred Journey of Ku-Kai Volme 5, NARAS, Recording Academy
---