KindHealth Partners With Newswire to Build Brand Awareness in Digital Insurance Industry
Press Release
•
Jan 6, 2022
Through Newswire's Media Advantage Plan, KindHealth continues to capitalize on new opportunities to build brand awareness and position the brand as an authority in its industry.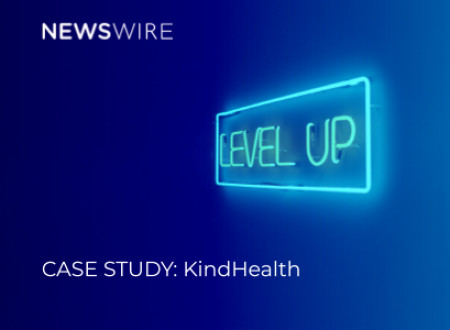 NEW YORK, January 6, 2022 (Newswire.com) - KindHealth is an Austin, Texas-based insurance discovery platform that's powered by cutting-edge technology which recommends the best insurance plan for consumers' needs and budget.
In January 2021, KindHealth joined Newswire's Media Advantage Plan (MAP) to achieve its goal of becoming the leading AI-powered national health insurance marketplace.
As part of the MAP, Newswire leverages its industry-leading press release distribution services and the expertise of its team to help KindHealth build brand awareness, improve SEO, boost website traffic, as well as create and nurture valuable relationships with industry publications to garner relevant earned media mentions.
"Since partnering with Newswire, we've put ourselves in a position to capture more market share and reach people who struggle to shop for the best health insurance package that meets their needs and budget," said Albert Pomales, co-founder, and CEO of KindHealth. "The team at Newswire is attentive, detail-oriented, and understands what we're trying to achieve as a company. Their commitment to helping us meet and exceed our goals is evident, and we're confident we'll continue to grow together in the future."
Over the past year, Newswire has helped KindHealth achieve a number of positive outcomes such as earning valuable media mentions in relevant industry publications, generating leads, building backlinks, and more.
Newswire recently published a case study that details the positive outcomes they've helped KindHealth attain through the MAP.
The KindHealth Case Study covers a number of topics including:
KindHealth and Newswire's partnership
How Newswire leverages the 5 P's of the MAP
Overview of results
And more
"Through our comprehensive approach to press release distribution, we've been able to help KindHealth amplify their message and position themselves as a thought leader in the insurance industry," said Charlie Terenzio, CMO and SVP of Media and Marketing Communications at Newswire. "We're carrying the momentum we created in 2021 into 2022 to help KindHealth continue to distribute the right message to the right audience at the right time."
Download the KindHealth Case Study today.
About Newswire
Newswire is a technology company that delivers press release distribution, earned media outreach, SEO traffic, and lead generation through campaign automation to help businesses land impactful media coverage, drive website traffic, generate qualified leads, and grow brand awareness. Through its industry-leading technology and its commitment to customer satisfaction, Newswire provides true value for businesses at a fraction of the cost of other solutions.
To learn more about press release distribution or the Media Advantage Plan, visit Newswire.com and check out why our customers have named us #1 for Customer Satisfaction in our industry for four years in a row.
For more information, visit http://www.newswire.com.
Contact Information:
Charlie Terenzio
CMO and SVP of Media and Marketing Communications
Newswire
Office: 813-480-3766
Email: charlie@newswire.com
Source: Newswire