Kimberly Elise Naturals® Launches Cranberry Curling Cream for Black Women at Hollywood Pop-Up Shop
Kimberly Elise Naturals® releases a hydrating, natural curling cream for black women with curly, kinky, coily hair, available at her Dec. 16 Holiday Natural Hair Party & Pop-Up Shop and online at KimberlyEliseNaturals.com.
Press Release
-
updated: Dec 10, 2018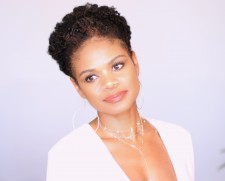 LOS ANGELES, December 10, 2018 (Newswire.com) - Four-time NAACP Image Award recipient and holistic living advocate Kimberly Elise releases Cranberry Curling Cream, a moisturizing styling cream for black women with curly, kinky, coily hair.
The Cranberry Curling Cream is the newest addition to the Kimberly Elise Naturals®️ hair care line, which includes her popular Kinky Coily Care Kit, a four-step clean beauty solution for black women. Each product is formulated to nurture and strengthen the beautiful curls, twirls and coils unique to Afro-textured hair using organic and natural ingredients.
Featured in the Cranberry Curling Cream is organic pumpkin seed oil, which is an ingredient that Elise advocates using all year long in one's natural hair care toolkit. The polyunsaturated fats and antioxidants in pumpkin seed oil calm the scalp, preventing itching and flaking. 
Natural ingredients also include Shea butter, coconut oil and aloe vera juice, which are known for their ultra-hydrating and softening qualities.
The clean beauty products will be showcased at Kimberly Elise Naturals®️ Holiday Natural Hair Party & Pop-Up Shop on Sun, Dec. 16, 2018, from 12- 2 p.m. PST in Hollywood. Open to the public, guests are welcome to join Elise for an elegant afternoon of champagne, cupcakes, conversation and celebration of Black hair in Hollywood. Go to bit.ly/2rsgkO3 to register.
Kimberly Elise Naturals® products are free of the harsh chemicals that prevent Afro-textured hair from thriving, such as sulfates, parabens, silicones, mineral oil, propylene glycol, paraffins, phthalates, petrolatum and drying alcohols. Kimberly Elise Naturals® is vegan, gluten-free and ethically produced, all issues that are important to Elise, a vegan for over 15 years and living with celiac disease.
Elise will star in Ad Adstra (2019), an upcoming American epic science fiction thriller film directed by James Gray, and written by Gray and Ethan Gross, starring Brad Pitt, Tommy Lee Jones, Ruth Negga, Jamie Kennedy and Donald Sutherland. Additionally, she will be starring in the comedy film HeadShop, directed by Kim Bass. Contact Kimberly Elise Naturals®️ for interviews.
Source: Kimberly Elise Naturals®
Share:
---
Categories: Celebrities
Tags: Cicely Tyson, Curly Hair, Denzel Washington, Hair Care, Kimberly Elise
---