Kids World App Introduces Raggs to Asian Market
Press Release
•
updated: Feb 1, 2016
World's Largest Kids Educational App Adds Raggs' New Nursery Rhymes for Ad Free Viewing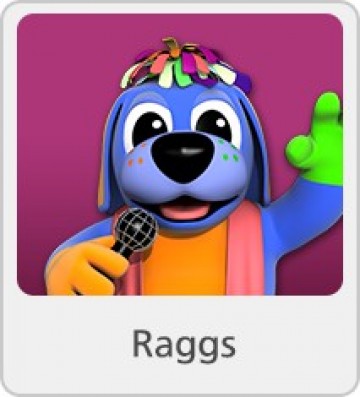 Charlotte, NC, February 1, 2016 (Newswire.com) - ​​BluePin.Co, creator of the world's largest children's education app, Kids WORLD, has acquired Raggs' new animated content for global distribution, marking Raggs' first foray into the Asian market. While Raggs is recognized as an Emmy-Award winning global TV series, Blue Socks Media, Raggs' parent company, commissioned 20 new classic nursery rhymes with corresponding animated videos last year for use in new and digital media.
RaggsTV has earned more than 20 million views on YouTube since their first animated nursery rhyme debuted on the channel in January 2015. Thanks to its immense popularity, Raggs' nursery rhyme collection is featured in the Kids WORLD app's "Song and Dance" category, along side other popular brands Bada Namu, Jelly Jamm, and Zootunes. Parents can now enjoy singing along to Raggs rockin' versions of classics such as "Five Little Monkeys," "Old MacDonald, and "London Bridge is Falling Down" with their children on a safe, ad-free platform.
"We're delighted to introduce Raggs to Asia, and Kids World is our first step planned for this dynamic and growing part of the world. The Raggs nursery rhymes and Kids World are a great fit!"

Toni Steedman, President, Blue Socks Media
"We're delighted to introduce Raggs to Asia, and Kids World is our first step planned for this dynamic and growing part of the world," Toni Steedman, creator of Raggs and President of Blue Socks Media LLC commented. "The Raggs nursery rhymes and Kids World are a great fit!"
Downloaded by more than 30 million users, Kids WORLD hosts more than 3,000 unique content items, including videos, ebooks, and games from many popular worldwide brands.
"We are very excited to have Raggs join Kids WORLD," Lydia Chung, International Business Senior Manager of BluePin, commented, "Raggs' versions of these classic nursery rhymes are the absolute best. They are catchy, fun and interactive…a wonderful development tool for young children."
For a monthly subscription fee of $6.99, users are given access to all content within the continuously updated app, as well as the ability to download content to their mobile device for offline viewing. The app is available for Apple and Android devices.
About Raggs
"Raggs" is an Emmy Award-winning, musical preschool television series about five colorful pups who learn life lessons in a cool clubhouse though the innovative mix of live action stories, music videos, concerts, cartoons and interviews with real kids. Originally produced in Sydney, Australia, with supplemental U.S. production, "Raggs" is available in Australian English, U.S. English and Spanish. Portuguese and French language dubbing is in production. "Raggs"' expansive library includes 195 finished half hour episodes, 200 original songs, over 1,000 segments and the recent production (2015) of 20 classic songs with companion animated cartoons. The entertaining and educational series is based on the original characters created by Toni Steedman, a Charlotte, NC, advertising executive, for her then six‐year‐old daughter Alison. "Raggs" is an international brand including TV distribution, multi-platform digital distribution, CDs, DVDs, toys, books and touring. With over 4,000 live performances around the world, The Raggs Band's live event experience has expanded to include a long-term partnership called "Play at Palladium with Raggs" with the Palladium Hotel Group at their resorts in Mexico, the Caribbean and Brazil. "Raggs" and all rights are owned by Blue Socks Media LLC, Charlotte, NC. For more info, go to www.raggs.com.
About BluePin
Since its establishment in 2010, BLUEPIN has been engaging in R&D business and mobile application business in wireless telecommunication field. The company makes continuous and relentless efforts to acquire competitiveness that satisfies the ever increasing demands of our customers. All employees of BLUEPIN are strive to create an organization with the highest competitive-edge by fully leveraging years of accumulated experience. BLUEPIN will continue to innovate and lead the information & telecommunication era of the 21st Century, and become a company that truly contributes to society. BLUEPIN not only makes every possible effort to ensure employee and customer satisfaction but aspires to create a wonderful world for everyone.
Related Media