Kid Ventures and Rady Children's Hospital Kick Off the Solomon Family Kid Ventures Fund at Special Back-to-School Event September 27
Press Release
•
updated: Sep 25, 2019
The Fund, fueled by donor investments entirely, will serve to create a not-for-profit Kid Ventures play space inside Rady Children's Hospital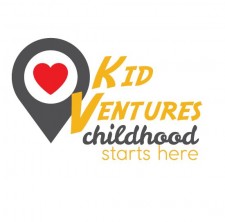 SAN DIEGO, September 25, 2019 (Newswire.com) - ​​Kid Ventures will host their Back-to-School Party on Friday, Sept. 27 to inaugurate their Preschool Academy as well as officially kick off their new Fund, the Solomon Family Ventures Fund, a partnership with Rady Children's Hospital to create a Kid Ventures-type play center inside the hospital.
Kid Ventures was founded by a local mom and dad, Debbie and Darren Solomon in 2008 with the intention to provide a space for children to build social and cognitive skills and stretch their imaginations and muscles in a clean and physically active environment. Debbie and Darren have also brought a 'mobile Kid Ventures' to Rady Children's Hospital in past years which really brought about this vision.
"We are excited to partner with Kid Ventures to offer our patients an interactive play space to bring laughter, joy and much-needed diversion from daily Hospital routines," said Nicholas Holmes, MD, senior vice president and chief operating officer at Rady Children's. "The Solomon family has helped to serve countless children across San Diego for more than a decade. It seems only natural that Rady Children's join their community dedicated to thoughtful, intentional play spaces."
Kid Ventures has served many families across San Diego County fortunate enough to have healthy kids, and they feel the responsibility to use their skillset, resources and success to create a meaningful legacy. Thus, the Solomon Family Kid Ventures Fund was formed.
Through the creation of this fund, Kid Ventures wishes to bring play, learning and discovery to the kids at Rady Children's Hospital. The Fund will be used to create an interactive play space for children and their caregivers to enjoy within the hospital campus. Rady Children's Hospital provides care to 91 percent of the region's children and more than 247,000 children rely on this hospital every year. Kid Ventures is committed to ensuring that these patients have an opportunity to just be kids during their hospital stay. Studies show that medical facilities yield better health outcomes for their patients when social and emotional elements are incorporated in the hospital environment. The indoor play space is projected to feature amenities like those in Kid Ventures, such as a market, fire station, and more.
"It gives us great satisfaction to know that we are playing a vital role in advancing Rady Children's mission to restore, sustain and enhance the health and development potential of children through excellence in care, education, research and advocacy," said Darren Solomon. "We hope to be a leading example of innovative and fun hospital care and inspire other hospitals across the country to do the same."
Donor investments will fuel this project entirely, and Kid Ventures as well as Rady Children's Hospital hope to receive help from members and businesses in the community to fund this special project.
To kick off fundraising, Kid Ventures is striving towards an initial goal of $10,000 to be raised at their event this September. The Back-to-School Party will take place on Friday, September 27 from 5:30 p.m. to 7:30 p.m. and will feature a Hullabaloo Concert, tasty bites, activities/free play, and tours of the facilities.
Kid Ventures Preschool Academy, formerly Kid Ventures Liberty Station, is located at 2865 Sims Road.
For more information on Kid Ventures Preschool academy, visit www.indoorplaysandiego.com/preschool.
###
Rady Children's Hospital
Rady Children's Hospital-San Diego is the region's pediatric medical center serving San Diego, Imperial and southern Riverside counties. Rady Children's Hospital treats children from birth to 18 years old as well as a small number of adults with certain conditions for which we have specialized services.
Kid Ventures
Since 2008, Kid Ventures has provided the next generation in boutique-style indoor family enrichment, education and entertainment centers. Their facilities offer the perfect setting for children to explore and expand their imaginations and talents as parents delight in the experience. Kids play & learn in a fun and stimulating indoor play village, designed to stretch their creative muscles in a healthy and safe way.
Source: Kid Ventures
Related Media
Tags
Additional Links