Kicking Off LGBT Pride Month, CHOPSO Releases the 15th Anniversary Restored Edition of Ethan Mao, World Premiering on June 8th at 8PM at the Japanese American National Museum
Press Release
•
updated: May 15, 2019
With a live appearance by the Director Quentin Lee and the Original Cast.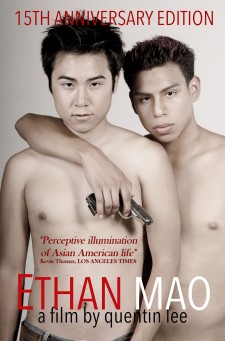 LOS ANGELES, May 15, 2019 (Newswire.com) - The Japanese American National Museum and CHOPSO are proud to present the 15th Anniversary Free Screening of Ethan Mao, digitally restored on 2K.
A perfect movie to kick off LGBT Pride Month, Ethan Mao is the acclaimed feature by Quentin Lee that world premiered at AFI Fest 2004 and won the Audience Award at the 2005 Turin International Gay and Lesbian Film Festival. Kicked out of his house because he's gay, Ethan Mao returns home to steal and ends up holding his family hostage on a fateful Thanksgiving Day. The film is written and directed by Quentin Lee, starring Jun Hee Lee, Raymond Ma, Julia Nickson, Kevin Kleinberg, Jerry Hernandez and David Tran. The digital restoration was supported by UCLA Film & TV Archive and Outfest's Legacy Project.
The Japanese American National Museum and CHOPSO will present the FREE SCREENING of Ethan Mao on Saturday, June 8 at 8:00pm at National Center for the Preservation of Democracy at the Japanese American National Museum, 100 N. Central Avenue, Los Angeles, CA 90012.The original cast and Director Quentin Lee will appear at the Los Angeles Screening for a Q&A after the film screening.
On June 18, Ethan Mao will be available on VOD worldwide via iTunes, CHOPSO and Amazon Instant Video.
CHOPSO is the ultimate streaming destination for English-language Asian content worldwide. Movies, documentaries, short films, TV and digital series..."All Asian, all English, 24/7!" For $4.95/month or $49.95/year, customers can stream CHOPSO's library anytime via the app (on IOS & Android devices) or website worldwide. https://www.chopso.com. All handles are @CHOPSO
The mission of the JAPANESE AMERICAN NATIONAL MUSEUM is to promote understanding and appreciation of America's ethnic and cultural diversity by sharking the Japanese American experience. For more information about the museum, go to www.janm.org.
RSVP info: https://www.brownpapertickets.com/event/4243616
For press inquiries or pre-screening request, e-mail press@marginfilms.com
For publicity images and resources:
https://drive.google.com/drive/folders/1TmMKaV6eNLPEibQe16cIdtQQveA-swlk?usp=sharing
Ethan Mao's 15th Anniversary Trailer on YouTube: https://youtu.be/1SciLMqoLGI
Source: CHOPSO
Related Media