KeepsakeMom Adds Stunning Angel Prints Necklace to Breastmilk Jewelry Line
Beautiful Drop-Shaped Pendant Necklace Celebrates the Sweetest Stage of Motherhood
Press Release
-
updated: Nov 4, 2020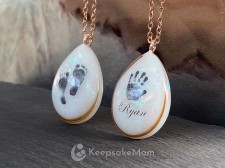 BLAINE, Wash., November 4, 2020 (Newswire.com) - Handcrafted jewelry company KeepsakeMom has introduced its latest sentimental product – the Angel Prints breastmilk jewelry necklace featuring an infant's footprint or handprint on the stunning drop-shaped pendant. The Angel Prints necklace is the latest addition to the jewelry line, which celebrates motherhood and the special bond that breastfeeding creates between mother and child.
The Angel Prints drop-shaped 25x15mm pendant is custom-made from the mother's breast milk, with a flat finished back and a beautiful iridescent shimmer from opal effect flakes. Along with the feeding baby's footprint or handprint, the necklace comes with the option of including a lock of hair and the child's name on the front or back. Presented in gift-ready packaging, the necklace includes a 20-inch rose gold-plated chain. The pendant is also available with silver flakes and a sterling silver chain, and gold flakes with a yellow gold-plated chain.
"Personalization takes on a whole new meaning with this addition to our line," said KeepsakeMom founder Anna Thachuk. "This necklace represents the perfect way to commemorate your newborn and honor the enduring bond that comes with breastfeeding. It's a statement piece that will be cherished for decades to come."
KeepsakeMom breastmilk jewelry is a unique collection of necklaces, bracelets, earrings, rings and beads – all made from breast milk to serve as a keepsake and beautiful symbol of this sweet stage of motherhood that passes too quickly. The line was inspired by Thachuk, a medical school graduate who became a diagnostic medical sonographer specializing in ultrasound. Through her work, she developed a deep appreciation for the excitement of expectant mothers. When she became a mother herself, she found breastfeeding to be a blissful bonding experience, only to be disheartened two months later when her supply rapidly diminished. Understanding the tremendous value of breast milk and the unbreakable connection it fostered with her child, she decided to combine her personal experience with her love of jewelry. Over time and through trial and error, she eventually perfected the art of breastmilk curing to create these stunning works of art.
The Angel Prints breastmilk necklace can be purchased online, at https://www.keepsakemom.com/product/breastmilk-jewelry-breastmilk-necklace-angel-prints. The story behind breastmilk jewelry is also available online, at https://www.keepsakemom.com/breastmilk-jewelry.
Source: KeepsakeMom
Share:
---
Categories: Pregnancy
Tags: breast milk jewelry, breast milk necklace, breastmilk jewelry, breastmilk necklace
---