KD Combo Introduces the Tailored Fit Car Seat Cover in Their Coming Home Collection
KD Combo is set to premier their original pattern in the Coming Home Collection: The perfect gift for the polished mom.
Press Release
-
Oct 11, 2016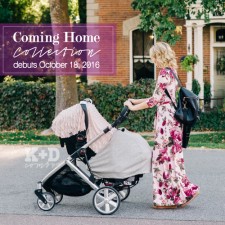 Hooper, Utah, October 11, 2016 (Newswire.com) - KD Combo LLC, an up and coming baby lifestyle brand, has announced the release of its 17-piece Coming Home Collection on October 18, 2016.  The highly anticipated collection is for new moms, or once again mothers, with a weakness for fashion.  "Our customers have loved our classic car seat covers, featuring cascading ruffles, which are perfect for baby girls," says Designer Kyrsten Robbins.  "We've received tons of requests for more masculine covers and really haven't felt that we had the perfect answer, until now! These new Tailored Fit covers are all the rage and are gender neutral."
The 5 styles of Tailored Fit covers are exclusive to KD Combo. The 4 piece pattern was designed with fresh materials, simple usability, and shaped to minimize stretching and excess fabric over hang. Four pieces allows the distribution of tension over 4 seams as opposed to the standard 2 piece alternative.
It's important for moms to have the ability to set their car seat down in doctors' offices, restaurants, and on wet days without worrying about their cover touching the ground. Three styles have medium weight textiles to insulate better in colder temps, while 2 more lightweight options are in buttery soft jersey.  The shape of these covers fit perfectly around car seats providing a cozy space for babies to sleep, bonus germ barrier & they won't flip up in the breeze.
The ultimate challenge, for KD Combo, was creating a pattern for their customers that would be multi-functional. They are proud to say, mission accomplished! The Tailored Fit was designed with nursing mamas in mind. It can double as a 360-degree nursing cover, if desired.
"We are excited for the launch of the Coming Home Collection that our fans have been waiting months for.  I know our customers will love to have something special in their hospital bags or shortly after the arrival of their babes. These covers are different from anything else in the industry," says Kyrsten. It is important to KD Combo to provide products that meet mom's standards of simple, comfortable and functional.  "Mom's need comfort, especially in those first months as the family welcomes home their newborn(s)," says Danny Robbins, Owner of KD Combo.
The ruffled covers are a classic canopy style in the KD Combo brand. Three more seasonal colors will be released, in addition to their 5 most popular solids.  The positive response to the genuine leather straps with brass snap closures, indicate these styles will sell out quickly. The Coming Home Collection also features styles with a new flower accessory positioned on the iconic left side.
KD Combo is pleased with the initial reception of the Coming Home Collection and can't wait to get their covers into the hands of their customers. 
About KD Combo
Danny & Kyrsten Robbins, husband and wife duo, established KD Combo in the Summer of 2015. Kyrsten graduated with a bachelor's degree in Interior Design with a love of high-end textiles and pattern creation. Danny Robbins' MBA & entrepreneurial spirit propelled the couple forward with creative thinking in current trends. KD Combo is an emerging baby essential brand that creates designer infant car seat covers for the polished mom.
Contact us at hello@kdcombo.com for interviews or more photos. KD Combo offers a $10 OFF coupon code for customers who join the KD Combo Insider, where they receive exclusive promotions not given to the public and are first to know of new products, pre-sales & lots of extra spoiling. http://eepurl.com/b7zecL.
To view the entire Coming Home Collection check out our shop https://www.etsy.com/shop/KDCombo on Oct 18. New website coming soon. Kdcombo.com
Social media
Instagram at https://www.instagram.com/kd_combo
KD Combo Insiders group page https://www.facebook.com/groups/1550963841875868/
Source: KD Combo
Share:
---
Categories: Fashion, Parenting, Shopping, Textiles, Pregnancy, Family
Tags: canopy, car seat, cover, infant
---