Kaliber Global Announces New Livin' Well Product Line of Safe, Humane Pest Control Devices
No-kill rodent repellents use sound, vibrations and other chemical-free solutions to rid the home and lawn of pests.
Press Release
-
updated: Apr 23, 2019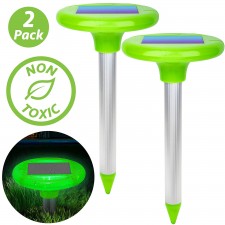 BELLEVUE, Wash., April 23, 2019 (Newswire.com) - Nothing is more frustrating than stepping into your yard to find a trail of unsightly mole holes and bird messes. In preparation for lawn and garden season, Livin' Well, one of the top home goods sellers on Amazon, announced the launch of its new line of pest repellents that humanely deter birds, bugs and rodents, while being harmless for humans and pets. Livin' Well offers a wide range of pest control products, from solar powered lawn stakes to ultrasonic plug-ins to simple, but effective, reflective holographic owls.
There is no need to worry about poisonous rodent killers that pose a danger to children or pets. All of the Livin' Well pest control products use fast-acting, continuous methods to rid homes and yards of pests.
The flagship product in the Livin' Well line of rodent repellents is its long-range mole repellent lawn spikes. Pests will retreat from the 400HZ ultrasonic pest repeller's constant noise and vibrations. They are easy to set up in lawn or garden areas and have an extended range of up to 7,000 square feet. These low-maintenance rodent deterrent stakes are solar powered and weatherproof. They feature two different sonic vibrations to rid properties of destructive moles, voles, gophers and snakes quickly.
The two pack of mole repellent spikes is available now on Amazon. Upgrade to the LED mole repellent spikes for dual purpose rodent repellent and solar lights, which offer convenient and decorative illumination to lawns and gardens.
Keep pests out of indoor spaces, like kitchens, bedrooms, bathrooms, garages, attics, basements and barns, with the Livin' Well ultrasonic pest repellent plug-ins. The newest technology is used to produce high-frequency sound waves that repel bugs and rodents from inside your home. Simply plug in the pest deterrent device and enjoy bug and rodent-free living. Each family-friendly and pet-friendly ultrasonic pest control device covers a 400 square foot area. Say goodbye to mouse traps and bug zappers and enjoy the quiet and consistent results of these electronic pest repellents that can be used to deter mice, squirrels, mosquitoes, spiders, bees, wasps and more.
The ultrasonic pest control plug-in is available on Amazon as a one-pack bug and rodent deterrent. Or upgrade to the 2-in-1 indoor pest control, LED ultrasonic plug-ins, available on Amazon in a one pack, two pack and four pack. With the LED model, your sonic pest control plug-in also works as a gentle night light! Switch the LED light on or off as needed, while the insect and mouse deterrent continues to ward off pesky rodents day and night.
Birds watch out, and owl fans twist and shout – the Livin' Well reflective owls are as flashy as they are frightening to unwanted avian pests! The large, double-sided holographic owl decoys reflect the sun to deter birds from nesting, pecking and leaving a mess on houses, cars, patios and other outdoor spaces. Place inside car windows to keep birds from making a mess on parked cars. Hang them in the sun and away from walls or branches so they can chime and sparkle in style. Each reflective owl bird repellent comes complete with bells that jingle in the wind to startle pesky pigeons and sassy starlings. The flash of fake owl decoys work to scare away birds, like woodpeckers, crows and more from awnings, eves, carports, gazebos and more. Holographic owl bird deterrents are available on Amazon in a two pack of reflective owl decoys or three pack of reflective owl decoys.
Keep green spaces free of pests, rodents, mole holes and bird messes this spring with a complete line of effective rodent repellents, electronic pest control and bird deterrents that are safe for family members and pets and repel rodents, birds and bugs in a humane, no-kill way.
########
About Kaliber Global:
Kaliber Global is a top-tier Amazon seller and the fastest-growing retailer in Washington State (Inc. 500, 2017). It is a locally owned business based in Bellevue, Washington that specializes in Amazon seller management, as well as growing its own private-label brands in the Amazon Marketplace since 2012. Samples are available upon request.
Contact:
Amber Norell
Marketing Manager, Livin' Well
407-432-0522
amber@kaliberglobal.com
Source: Kaliber Global
---
Categories: Gardens and Landscape
Tags: bird deterrent, garden, gardening, gardens, lawncare, mole repeller, pest control, pests, ultrasonic pest control
---