Kaliber Global Announces New Livin' Well Home Products to Prepare for Emergencies
3 time-saving storm supplies that keep you organized everyday
Press Release
-
updated: Feb 27, 2019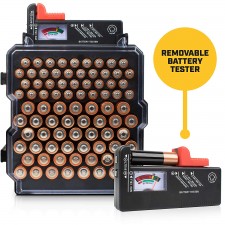 Bellevue, WA, February 27, 2019 (Newswire.com) -  Batteries top the list of supplies to have on hand for an emergency. But what if, after sifting through a junk drawer, all available batteries are dead? Earlier this month, Livin' Well, one of the top home goods sellers on Amazon, launched their new Volt Vault battery organizer with battery tester. The battery storage case holds 83 batteries and fits in a kitchen drawer or easily hangs on the wall. The detachable analog battery tester can test battery sizes AAA, AA, C, D, 9V and button batteries. In an emergency, time is critical; This battery tester's easy-to-read meter needle moves to quickly identify "good" (green), "low" (yellow), and "replace/recharge" (red) battery status. This universal battery tester is powered by the batteries it tests!
According to FEMA, 80% of Americans live in counties that have experienced a weather-related disaster. With increased storm awareness and media coverage, preparing for these emergencies has become a priority for Americans. More than half of Americans (52% Source: CDC.gov) have emergency supplies on hand. A battery organizer case and tester are two supplies that benefit in both emergencies and everyday life.
These are not just "go-bag" worthy, but items that help Americans clear out clutter and save time year-round. There is a sense of calm that comes from organizing kitchen drawers and work spaces. Not only does the Livin' Well Battery Storage Organizer with Tester (available on Amazon) have a compact design for tight spaces, it's transparent lid allows you to quickly access your supply. With the battery tester included it's easy to know what batteries are dead, and can be cleared out.
Just need a battery tester? For less than $10 the battery tester is sold separately without the battery organizer case. This small home accessory easily fits in a drawer, glove compartment or even a pocket. And because it requires no power itself, it's a maintenance-free gadget that is ready to go when you need it.
Livin' Well is known for their practical and inventive home products. In continuation of their new line of storm supplies, the brand introduced their LightSaver motion sensor LED strip lights. Attach the 5ft strip of motion activated lights under the bed, on the stairs or in dark closets so they turn on when you approach within 14 feet. Light your way so you can safely navigate your home in the dark. Whether an emergency strikes, or you just need get up in the night, there is no fumbling to find the light switch or tripping over things in the dark with this rope night light. Available on Amazon, the LED strip lasts up to 10 years based on average use.
Livin' Well's home goods product line extensions provide customers high quality items for health, wellness, home & kitchen, lighting and pest control. Their line extension into emergency supplies continues their commitment to quality products that bring value to their consumers' lifestyle whether in a crisis or for everyday use.
#######
About Us: Kaliber Global is a top-tier Amazon seller and the fastest-growing retailer in Washington State (Inc. 500, 2017).
Kaliber Global is a locally owned business based in Bellevue, Wash., that specializes in Amazon seller management as well as growing our own private-label brands in the Amazon Marketplace since 2012.
Contact Information: Amber Norell is the marketing manager at Livin' Well. She can be reached at 407-432-0522 or via email at amber@kaliberglobal.com
Source: Kaliber Global
---
Categories: Retail
Tags: Amazon, battery organizer, battery tester, DIY, emergency preparation, emergency supplies, home goods, home organization, led motion lights, organization
---