Kaliber Global Announces Best Selling Force1 Drones on Sale for Graduation and Father's Day
Save (crazy) big on camera drones and RC toys with all the top features for beginners and pros
Press Release
-
updated: Jun 5, 2019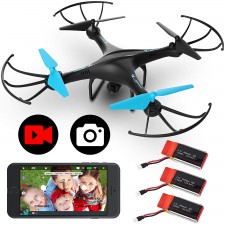 BELLEVUE, Wash., June 5, 2019 (Newswire.com) - 'Tis the season for dads, grads and grassy pastures primed for drone flying. In honor of capturing HD footage of caps in the air and fathers spending quality time with their kids, Force1, one of the top drone and RC sellers on Amazon, is going BIG with drone deals. Get ready to land the perfect gift for guys, husbands, fathers, and teens who've earned some R&R.
Capture spectacular memories from high in the sky, without sky-high prices. Save 40% on the purchase of one of these eight awesome Force1 drones:
Force1 U45WF Blue Jay Drone with HD Camera, Wi-Fi FPV capability and virtual reality will amaze beginners and pros. Light up the night sky with its LED lights while capturing crisp aerial photos, videos and selfies.
Looking for an awesome drone with all the top tech features? Check out the F100GP Ghost Drone  - Compatible GoPro Drone with detachable 1080p HD Camera – perform wild stunts and capture it all on high definition video.
Make memories with the U49WF Drone with Wi-Fi first-person view and HD camera. Enjoy one-key controls and live video feed all from the convenience of a mobile device.
Light up the night sky with super bright LED drones that are perfect for beginners. The UFO 3000 lights up blue and green, and the UFO 4000 LED lights are red and blue -- perfect for patriotic holidays. Make hypnotic glowing light trails that streak through the night when flying these small drones, which can even be flown indoors.
Need a travel camera drone? Choose from the F111 Phoenix foldable drone and the U34W Dragonfly mini drone with camera. The F111 foldable drone weighs .35 lb and can be flown with a smartphone, using the Wi-Fi app. Experience a first-person view (FPV) when streaming from a mobile device. The U34W mini drone is an indoor/outdoor drone that's ready to fly out of the box. Read between the lines -- perfect beginner drone.
Force1 Monarch hand controlled drones were designed to be flown single-handedly. These mini drones have a remote that secures to the hand.  This beautiful butterfly drone is controlled by hand motion and will mimic the pilot's flight pattern.
Best Drones for Dorms
Grads are off to new chapters in their lives, which often means dorm life. This new experience can bring about the need for casual ice breakers, indoor entertainment and stress-relief activities.
The UFO drones are the life of the party. They flip, glow, and include a controller -- all the makings of the perfect drone for teens and young adults. And most importantly, they can be flown outdoors or indoors -- perfect for dorm life.
Life in small, shared spaces like college dorms, requires size-conscious gadgets. The F111 foldable drone and U34W Dragonfly mini drone are compact camera drones that can be tucked away or stowed in a backpack.
For female grads, the indoor/outdoor monarch drones sparkle, shine (LED lights) and fit in a handbag.
These drones for grads hit all the marks for usability and practicality, and on a college budget, the 40% off scores highest of all.
Hobby Drones for Dads and Grads
Stay on top of the big guy's special day this year with epic gifts for dads. Stock up on drones, quadcopters and RC toys for Father's Day that'll keep the fun going all summer long.
Looking for a beginner drone for dad that he can enjoy with his kids? Start off easy with the colorful LED UFO drones. Remember all those sessions in the backyard throwing a ball back and forth? This drone takes "playing catch" to the next level.
Speaking of the next level. The U45WF and U49WF are camera drones that strike the perfect balance between simple and tech savvy. They check all the boxes: camera, stability, flight control, Wi-Fi FPV and 360 flips. These drones are crowd pleasers.
For the ultimate drone tech experience, turn to the Shadow Hex GPS drone and the F100 GP Ghost drones. Both long-range drones feature a 1080p HD camera. The Shadow Hex has three GPS modes -- just pull up the app, view the GPS map and get to it. The drone flies along set points, follows the mobile signal and even hovers in a circle around a designated point of interest.
The brushless F100GP drone is the complete drone kit. It's a GoPro-compatible drone with extra blades, a detachable 1080p action camera, three drone shells, brushless drone motors, two batteries and a balance charger. It's the complete package.
Want to B-line right to the deal? Use this link - https://www.amazon.com/gp/mpc/A3N17C5NQDM93N
Deal runs from May 27-June 16.
Force1 has hit the mark with hi-tech drones and RC toys for all ages. Take a pick, save big and play cool this summer.
About Kaliber Global:​
Kaliber Global is a top-tier Amazon seller and the fastest-growing retailer in Washington State (Inc. 500, 2017).  It is a locally owned business based in Bellevue, Washington that specializes in Amazon seller management, as well as growing its own private-label brands in the Amazon Marketplace since 2012. Samples are available upon request.
Contact:
Amber Norell
Marketing Manager, Force1
407-432-0522
amber@kaliberglobal.com
Source: Kaliber Global
Share:
---
Categories: Toys
Tags: drone, drone with camera, drones, gps drone, mini drone, rc boat, rc car, rc drone, rc toys, remote control car
---