Just Launched: The NEXT Generation Bike Rack System
Kupper Mount is changing how people transport their bikes
Press Release
-
updated: Jul 25, 2018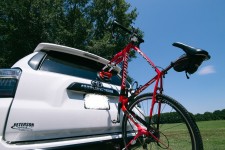 RALEIGH, N.C., July 25, 2018 (Newswire.com) - Riders now have a new choice in bike racks called Kupper Mount. This new innovation is a modern-looking alternative to the traditional big and bulky bike rack that often can be very costly. Kupper Mounts are so small and portable that they can fit in a cinch sack. Although small, it is very strong and can hold both road and mountain bikes up to 45 pounds. They also work great in extreme heat or cold, rain and snow. 
The Kupper Mount can be installed in under two minutes on any car, SUV and truck, in addition to any vehicle that most traditional bike racks won't fit. The system holds any bike where the front tire can be removed, including thru-axle bikes with the use of an adapter. The affordable Kupper Mount is launching today on Kickstarter for only $99, saving early adopters $50.
The company has produced a short video to show users just how easy Kupper Mount is to install and how functional it is to use.
Riders can check out how to install Kupper Mount in less than two minutes on YouTube.
Andrew Jarrard is the creator of Kupper Mount. He was an avid bike rider in college, but once he graduated and left campus, he found his options limited for transporting his bike from place to place. Most options were either expensive or quite cumbersome in their design, especially having to leave a large bike rack on his car when most of the time it wasn't in use. Jarrard knew there had to be a better way.
"I was in a parking lot one day and saw a window installer use these large vacuum suction cups to replace a windshield and the idea struck that this same idea could be used for a bike rack," says Jarrard. "The Kupper Mount design looks small, but they are mighty. Utilizing vacuum technology, these mounts can handle weights far exceeding expectations, allowing riders to transport their bikes from adventure to adventure easily and safely."
To learn more about the Kupper Mount design and special Kickstarter pricing visit their Kickstarter webpage.
About Kupper Mount
Kupper Mount has a mission to make biking more affordable and accessible to everyone. The company is launching the most portable, convenient and affordable bike racks on the market. The Kupper Mount System launched on Kickstarter July 23. For more information, visit KupperMounts.com.
Media Contact: 
Andrew Jarrard
Kupper Mounts
info@kuppermounts.com
Source: Kupper Mount
---
Categories: Sports, Fitness, and Recreation, Sports-related Business
Tags: adventure, bicycle, bike racing, bike rack, cycling, men's health, mountain biking, outdoors, sports, women's health
---