July 1 Book Release - 'Responder Resiliency - An Owner's Manual'
Press Release
•
updated: Jun 30, 2020
First Responders Resiliency Develops a How-To Manual for First Responders Coping with PTSD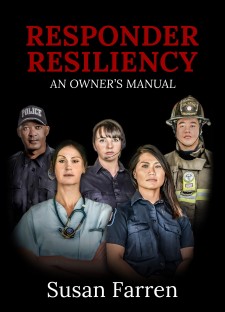 SANTA ROSA, Calif., June 30, 2020 (Newswire.com) - ​Susan Farren, Founder and President of First Responders Resiliency, Inc., a nonprofit dedicated to proactively training first responders (and their families) to cope with the inevitable emotional trauma resulting from their jobs, is pleased to announce the release of Responder Resiliency - An Owners Manual. The book is available for sale online now at www.resiliency1st.org before its public debut tomorrow on July 1.
Ms. Farren is already a published author, having previously written The Fireman's Wife: A Memoir (Hatchette Books), a first-hand account of being the spouse of a first responder.
Ms, Farren, a retired paramedic herself, has spent the last 2 1/2 years (with the help of her team at First Responders Resiliency) training first responders from all over the country in effective techniques to prepare themselves for the impacts that repeated exposures to trauma and stress will have on their bodies and their emotional well-being.
After training more than 2,000 first responders with the organization's unique approach to wellness and fielding dozens of requests to put the training into a book format, she has done just that.
Responder Resiliency - An Owners Manual is a first-hand look at the concepts that are used by First Responders Resiliency (FRRI) to introduce first responders to effectively taking control of, and transforming, their wellness. It is an easily understood manual that will assist first responders regarding "Putting PTSD Out of Business" and has already received rave reviews from those in the first responder arena.
"Putting PTSD Out of Business" is the registered trademark of First Responders Resiliency, Inc., and the organization addresses every component of the issues affecting first responders with their unique, multi-faceted approach of implementing education, skills, techniques and tools that have profound impacts on stress reduction and management, thus improving the professional and personal lives of those who serve. The organization implements and leverages everything in their approach, from techniques used by the Navy SEALS to the most recent research provided by neuroscientists and elite athletes alike.
Asked to sum up what this book is all about, Susan said, "If you are, or ever have been, a first responder, you know that reactive care to traumatic events is not 100% effective at dealing with the situations you see every day, many of which are not considered critical. Make no mistake, the cumulative stress of dealing with the issues we face is taking its toll.
"What many of us are good at is compartmentalizing our emotions so we can finish the job. The problem is, that skill often follows us home, making it difficult to separate work and home, and eventually, separate your feelings about work from everything else. What Responder Resiliency - An Owners Manual offers to a first responder, or a first responder organization, is a great how-to manual on how to preempt and ward off the destruction that PTSD can cause."
First Responders Resiliency, Inc. is a non-profit organization dedicated to the psychological, physical and emotional well-being of first responders. Founded and run by first responders, the organization provides comprehensive, holistic and proactive training to equip first responders to become more resilient both on and off duty. Research and science are the foundation of this program and support every component of the human system assisting both first responders and their families.
Learn more at www.resiliency1st.org, and you may contact First Responders Resiliency by email at info@resiliency1st.org if desired.
Source: First Responders Resiliency
Tags
Additional Links