Journal of Neuroimaging Publishes Study on MRIs Showing LearningRx Brain Training Produced Changes in Brain Connectivity
LearningRx Reviews Research using the ThinkRx Brain Training Program for Cognitive Rehabilitation.
Press Release
-
updated: Apr 12, 2018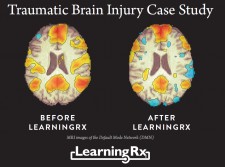 COLORADO SPRINGS, Colo., April 12, 2018 (Newswire.com) - The results of a study published in the Journal of Neuroimaging highlight the benefits of LearningRx's ThinkRx Personal Brain Training as seen in MRIs that demonstrate changes in brain connectivity.
ThinkRx is an intensive, 60+ hour, one-on-one, clinician-delivered cognitive training program based on the Cattell-Horn-Carroll theory of cognitive abilities, and targets multiple cognitive skills, including attention, working memory, processing speed, logic and reasoning, auditory processing, and visual processing.
Quantitative and qualitative gains across subjects suggest that ThinkRx is a robust cognitive rehabilitative training program.
The study, which was presented at the 41
st
Annual Meeting of the American Society of Neuroimaging by Christina Ledbetter, Ph.D., Louisiana State University Health Sciences Center and Amy Moore, PhD, Gibson Institute of Cognitive Research, looked at a series of case studies carried out in subjects with varying degrees of traumatic brain injury and cognitive impairment.
"In addition to MR exams, all subjects completed pre/post neuropsychological testing and condition-specific rating scales," explains Dr. Moore. "Quantitative and qualitative gains across subjects suggest that ThinkRx is a robust cognitive rehabilitative training program. Further, these results support the hypothesis that MRI can be used to visualize default mode network connectivity, even at the single subject level, and to quantify changes in resting-state brain connectivity at both the single subject and group level."
A summary of the study, "Neuroimaging Outcomes of a Cognitive Rehabilitation Training Program, can be found here: https://www.gibsonresearchinstitute.org/research-areas/research-summaries.
About the Gibson Institute of Cognitive Research
Gibson Institute of Cognitive Research in Colorado Springs, Colorado, is the research laboratory at LearningRx World Headquarters. The mission of the Gibson Institute is to conduct empirical research on cognitive training programs and assessments, to communicate the latest research findings to the education and cognitive science communities, and to inform the practices of cognitive trainers through rigorous testing of training programs and procedures in both the laboratory and ecologically-valid training environments.
About LearningRx
LearningRx, headquartered in Colorado Springs, Colorado, is the largest one-on-one brain training organization in the world. With 80 Centers in the U.S., and locations in over 40 countries around the globe, LearningRx has helped more than 100,000 individuals and families sharpen their cognitive skills to help them think faster, learn easier, and perform better. Their on-site programs partner every client with a personal brain trainer to keep clients engaged, accountable, and on-task-a key advantage over online-only brain exercises. Their pioneering methods have been used in clinical settings for over 35 years and have been verified as beneficial in peer-reviewed research papers and journals. To learn more about LearningRx research results, programs and their 9.6 out of 10 client satisfaction rating, visit http://www.learningrx.com.
Source: Learning Rx
Share:
---
Categories: Neurology
Tags: acute brain injury, ADHD help, Cognitive rehab, Does LearningRx Work, executive fuction training, learning rx, Learning Rx reviews, MCI, Memory Help, MRI, TBI, working memory training
---