JM Internet Announces Social Media Marketing Book Tops 200 Reviews on Amazon
The JM Internet Group is a leading publisher of books for small businesses. The company is announcing it has topped 200 reviews on Amazon of its book on social media marketing.
Press Release
-
updated: Mar 5, 2018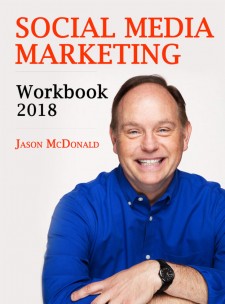 SAN JOSE, Calif., March 5, 2018 (Newswire.com) - The JM Internet Group (https://www.jm-seo.org/), a leader in books on SEO, social media marketing, and AdWords for small business marketers, is proud to announce that the 2018 edition of the Social Media Marketing Workbook has topped 200 reviews on Amazon. The book is consistently a best-selling book on social media for small business, and the latest edition includes videos, worksheets, quizzes and to-do lists.
"It's one thing to publish a book on social media, and quite another to garner so many positive reviews on Amazon," explained Jason McDonald, director of the JM Internet Group. "As the author, I am very pleased to top 200 reviews and even more pleased by the person-to-person interactions that I have received from readers of the book."
To learn more about the Social Media Marketing Workbook, visit https://www.jm-seo.org/books/social-media-marketing-book/. To see the social media book on Amazon visit http://amzn.to/2drTp0K. Persons who are bloggers, journalists or otherwise have a platform to write a book review can request a complimentary review copy by visiting the website and sending an email or calling in and indicating their interest.
THE SOCIAL MEDIA MARKETING WORKBOOK: A 2018 UPDATE FOR SOCIAL MEDIA MARKETING
It's no secret that interest in social media is exploding. Businesses today want to learn how to market on Facebook, how to set up an ad on LinkedIn and how to tweet with the most effective return-on-investment. That said, the technical details are complicated and the strategic planning is just as much of a problem. The new, 2018 edition of the Social Media Marketing Workbook begins with a conceptual framework, comparing social media to a party and social media marketing to the art and science of throwing a great party. Next, it explains content marketing, which is how to create blog posts, videos, images and other content that can be systematically shared across social platforms. Finally, it dives into all the major platforms - Facebook, Twitter, LinkedIn, Instagram, YouTube and Pinterest to explain how to market effectively on each one. The book also includes worksheets, quizzes and to-dos, so that the busy business marketer or owner can market their business in the most effective way possible.
REVIEW EXCERPT
Here is a sample excerpt from one of the book reviews on Amazon, by Tiffany H:
"This book is meaty!... As a writer myself, you can tell that Jason McDonald put a lot of research and effort into writing this. Not only do you get over 300 pages of valuable content in the book, you can also register your workbook on his website to get access to hundreds of additional resources that teach you how to maximize your impact on Facebook, Pinterest, Twitter, Instagram, Youtube, LinkedIn, and Google+. Since they cover all of major social media/networking platforms, I think that every small biz owner can glean some practical info."
To read the complete review as well as other reviews, please visit the book's landing page on Amazon.
ABOUT JM INTERNET GROUP
The JM Internet Group provides SEO, social media marketing and Google AdWords training and courses for busy marketers and business people. Online search engine optimization training helps explain keywords, page tags, link-building strategies and other techniques needed to climb to the top of search engine rankings for Google, Yahoo and Bing. The teaching methodology is hands-on, with live examples and discussions taught from the convenience of each student's computer. It should be noted that the company maintains important book lists such as its list of the best SEO books at https://www.jm-seo.org/2015/05/best-seo-books/ and the best social media marketing books at https://www.jm-seo.org/2017/01/social-media-marketing-books-2017-list-best-books-social-media-marketers/.
Contact:
JM Internet Group, Media Relations
Web. https://www.jm-seo.org/
Email. jm(dot)internetgroup(at)gmail(dot)com
Source: JM Internet Group
---
Categories: Books, Marketing, Small Business
Tags: business, marketing, small business, social media marketing
---