JAGMAC, Radio Disney's 'Next Big Thing,' to Release Highly Anticipated Debut EP, 'Right Back With You' on September 7
Press Release
-
updated: Sep 5, 2018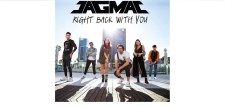 NEW YORK, September 5, 2018 (Newswire.com) - Radio Disney's "NBT" (Next Big Thing), JAGMAC, will release their highly anticipated debut studio EP "Right Back With You" this Friday through Unitas Entertainment LLC. Recorded in Los Angeles, California and produced by Jayme David Silverstein (Miguel, Kaskade, and Morgan Page), Tommy Hubbard & Rich Zahniser as The Trust (The Gipsy Kings, Bootsy Collins, and Billy Ray Cyrus), and two-time Grammy Winner Neff-U (Michael Jackson, Dr. Dre, Eminem, Ne-Yo, Justin Bieber, and Sia), "Right Back With You" displays a fresh sound in pop music; it is high energy, colorful, soulful, and positive. While verses are smooth and sultry, the hooks are super impactful and will make listeners want to dance and sing along. JAGMAC's "Right Back With You" will be available on iTunes and all major retailers and streaming services on Sept. 7, 2018.
"Right Back With You" explores themes every young adult can relate with: life, love, faith, relationships, doubts, aspirations, and having a good time. JAGMAC penned the songs with many of the industry's top writers. Lyrics derive from a true place of real-life events and emotions.
"We want our fans to listen to this EP and be able to relate to it, jam to it, and walk away feeling inspired," says Alyssa, the lead female vocalist of the six-sibling group. "We want them to realize that it's ok to not have everything figured out all the time. There are going to be things in life that you're not sure about and can't control. Therefore, we must do our best to keep moving, improving and falling in love with the process!"
"The music of each generation never fails to step it up, especially when it comes to dance party music," continues Alyssa's brother, CJ. "What's different about our generation is that we have the power of the internet, which can be utilized if done properly and with good intention."
JAGMAC is set to make a number of national appearances in support of "Right Back With You." Beginning Sept. 9, they will embark on the 21-city "Tonight Belongs To You" tour as the opening act for In Real Life, the popular new group from ABC TV's televised competition show, "Boy Band."
"Right Back With You" Track Listing:
1. Be Honest
2. Like Ooh
3. Right Back With You
4. Like Me
5. No Plans
6. Not Sure
About JAGMAC:
Born and raised in Baltimore, Maryland, JAGMAC has become known for their catchy choruses, stunning vocals and remarkable dance routines. They sing, dance, co-write all their songs, choreograph their own moves and play musical instruments including the guitar, piano, bass and drums. Every member of the group also holds a black belt in Tae Kwon Do and are world champions in Eskrima, a Filipino martial art.
During the last several years, JAGMAC has achieved many impressive accomplishments. In 2016, their single "So Good" hit the no. 20 spot on the Radio Disney Top 30 chart and that summer, they were the opening act for Little Mix's UK tour. Their next single, "Soldiers," peaked at the no. 15 spot on Billboard's Hot Club chart.
Earlier this year, JAGMAC was named Radio Disney's "NBT" (Next Big Thing), joining an impressive roster of "NBT" alumni who have quickly grown to be some of today's biggest artists, including Shawn Mendes, Camila Cabello, Fifth Harmony and Alessia Cara. Their journey was featured in a series of exclusive "NBT" videos on Radio Disney, Disney Channel, the Radio Disney app, the Disney NOW app and social media platforms. JAGMAC was also featured on the Emmy Award-winning FX series, "Baskets."
For more information, please visit:
https://jagmacmusic.com
https://www.facebook.com/jagmacmusic 
https://www.instagram.com/jagmacmusic
https://twitter.com/jagmacmusic
Contact: Len Evans, Project Publicity: 212-445-0066   Len.Evans@ProjectPublicity.com
THE "TONIGHT BELONGS TO YOU" TOUR DATES ARE AS FOLLOWS:
SEPT 9 - COLLEGE PARK, MD - MILKBOY ARTHOUSE
SEPT 10 - NEW YORK, NY - GRAMERCY THEATRE
SEPT 12 - BOSTON, MA - PARADISE ROCK CLUB
SEPT 13 - PHILADELPHIA, PA - TLA
SEPT 15 - CINCINNATI, PA - BOGART'S
SEPT 16 - CLEVELAND, OH - CAMBRIDGE ROOM
SEPT 18 - DETROIT, MI - SHELTER
SEPT 19 - LOUISVILLE, KY - MERCURY BALLROOM
SEPT 21 - CHICAGO, IL - HOUSE OF BLUES
SEPT 22 - MINNEAPOLIS, IL - GARAGE
SEPT 24 - DENVER, CO - MARQUIS THEATRE
SEPT 26 - SAN DIEGO, CA - HOUSE OF BLUES
SEPT 27 - LOS ANGELES, CA - TROUBADOUR
SEPT 28 - ANAHEIM, CA - THE PARISH
OCT 1 - DALLAS, TX - CAMBRIDGE ROOM
OCT 2 - HOUSTON, TX - BRONZE PEACOCK
OCT 4 - INDIANAPOLIS, IN - DELUXE
OCT 6 - CHARLESTON, SC - MUSIC FARM
OCT 7 - CHARLOTTE, NC - THE UNDERGROUND
OCT 8 - ATLANTA, GA - AISLE 5
OCT 10 - ORLANDO, FL - THE SOCIAL
PROJECT PUBLICITY, INC. · NEW YORK CITY · 212.445.0099 · WWW.PROJECTPUBLICITY.COM
Source: JAGMAC
Share:
---
Categories: Music, Arts and Entertainment
Tags: EP RELEASE, IN REAL LIFE, JAGMAC, NEXT BIG THING, RADIO DISNEY, RIGHT BACK WITH YOU
---