JAGMAC, Radio Disney's Next Big Thing, Releases New Song, 'Right Back (With You)'
Press Release
-
updated: Apr 26, 2018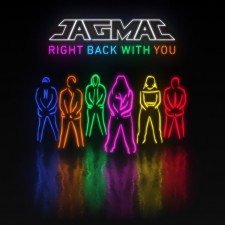 NEW YORK, April 26, 2018 (Newswire.com) - Following the exciting news of being named Radio Disney's "NBT" (Next Big Thing), JAGMAC is releasing "Right Back (With You)," their new single about relationships and how, despite their ups and downs, true love always finds a way to balance itself out in the end. The song is a fun, high energy pop track with an explosive hook that will keep listeners dancing and singing. "'Right Back (With You)' is the perfect track to introduce fans to our new JAGMAC sound," says Alyssa, the lead female vocalist in the six sibling group. The group gets its name from the first initial of its members: Jared, Angelique, Gabriel, Manjo, Alyssa, and CJ. "Over the past year, we have put a lot of time into crafting our music and we hope everyone enjoys it as much as we do!" JAGMAC's "Right Back (With You)" is available on iTunes and all major retailers and streaming services via Unitas Entertainment LLC.
"The song is about rollercoaster romance, even though I can't say any of us in the group are particularly drawn to relationship drama," continues Alyssa, from Los Angeles, where the group is busy putting the finishing touches on their upcoming album. "And with a big family like ours, it's important for potential sweethearts to gain the trust of all the siblings." She acknowledges it can be especially tough on guys crushing on the sisters. "Our brothers are like our bodyguards so they're protective all the time," she laughs. "But Angelique and I know it's all done out of love."
The group of four brothers and two sisters were born and raised in Baltimore, Maryland and are known for their catchy choruses, stunning vocals, and remarkable dance routines. They sing, dance, co-write all their songs, choreograph their own moves and play musical instruments including the guitar, piano, bass, and drums. Every member of the group also holds a black belt in Tae Kwon Do.
Since forming JAGMAC three years ago, the group has achieved many impressive accomplishments. In 2016, their single "So Good" hit the no. 20 spot on the Radio Disney Top 30 chart. That summer, they were the opening act for Little Mix's UK tour and their next single "Soldiers" hit the no. 15 spot on Billboard's Hot Club chart.
Earlier this year, they were invited to perform on the Emmy Award-winning FX series "Baskets" and last week, JAGMAC was named Radio Disney's "NBT" (Next Big Thing). They join an impressive roster of "NBT" alumni who have quickly grown to be some of today's biggest artists, including Shawn Mendes, Camila Cabello, Fifth Harmony and Alessia Cara. Beginning this month, JAGMAC's journey will be featured in a series of exclusive "NBT" videos on Radio Disney, Disney Channel, the Radio Disney app, the DisneyNOW app and social media platforms.
"We honestly couldn't believe it when we learned that we had been chosen as Radio Disney's 'NBT,'" says Manjo, the groups lead male vocalist. "We were so thrilled that some of us even started crying. It's such an honor. Radio Disney has always been a supporter of JAGMAC's music, but joining the rank of the past 'NBTs' is incredible. We are so grateful to Radio Disney and thankful for the opportunity to show the world what our family is all about."
In addition to their shared musical aspirations, each sibling in JAGMAC brings their own individual spirit to the group. Jared's biggest dream is to be the next Marvel superhero. Angelique is a painter and graffiti artist. Gabriel is a sports fanatic and Mango is the group's chef. Alyssa loves to be outdoors and CJ is the group's "neat freak."
Together, they are ready to conquer the world. JAGMAC has been penning a new album with many of the industry's top writers, including Graham Edwards (Justin Bieber, Rihanna), Lauren Christy (Avril Lavigne, David Bowie) Pam Sheyne (Christina Aguilera) Bryan Todd (Miley Cyrus), Ben Adams (Craig David) and Manny Streetz. JAGMAC's "Right Back (With You)" was written by Jared Patalinghug, Angelique Patalinghug, Gabriel Patalinghug, Emmanuel Patalinghug, Alyssa Patalinghug (BMI), Carlos Patalinghug (BMI), Ramir Vincent, Jayme David Silverstein, Tommy Hubbard and Rich Zahniser. It is produced by Jayme David Silverstein, Tommy Hubbard, Rich Zahniser.
Visit jagmacmusic.com.
Follow JAGMAC on Facebook, Twitter, and Instagram @jagmacmusic.
For more information, please contact Len Evans at Project Publicity: Len.Evans@ProjectPublicity.com; (212) 445-0066
Source: JAGMAC
Share:
---
Categories: Music, Arts and Entertainment
Tags: JAGMAC, music, musical artists, next big thing, Radio Disney, right back with you
---