Jackpot Rising Announces Partnership With Speedleague
Press Release
•
updated: Sep 28, 2017
Jackpot Rising and Speedleague Join Forces to Deliver the Ultimate Motorsports Fan Experience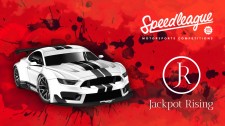 DALLAS, September 28, 2017 (Newswire.com) - Jackpot Rising Inc., a provider of interactive solutions for real money tournaments and esports, announced today its partnership with Speedleague to create an immersive experience for the league's motorsports fans.
Jackpot Rising is developing an official Speedleague mobile game that will include replicas of Speedleague tracks built in locations around the world, including Tucson, Las Vegas, and the Bahamas.
Both Speedleague and Jackpot Rising are dedicated to delivering fantastic experiences that are unlike any other.

William Webb, CEO
The game will allow fans to digitally race the same challenging tracks as the pros. Jackpot Rising will further intensify that experience by incorporating its patented real-money tournament engine into the game.
Fans who are 18-plus years old and located in approved jurisdictions, which includes more than half of the U.S., will be able to use their skills to compete against others for real money — just like pro racers.
"Both Speedleague and Jackpot Rising are dedicated to delivering fantastic experiences that are unlike any other," said Jackpot Rising CEO and Founder William Webb. "By partnering and collaborating on this game, we'll give motorsports fans even more reason to be excited about Speedleague's great lineup of events."
"Speedleague is all about bringing new and exciting types of racing entertainment to our fans," said Brian Gale, Speedleague CEO and President. "The Jackpot Rising game will give motorsports enthusiasts a fun and exciting way to be engaged both during, and in between, our live race weekends."
In addition to featuring rally cars, off-road trucks, and UTVs, Speedleague recently announced its introduction of E/RACING, a revolutionary new motorsports series featuring electric-powered rally racing cars offering more power and torque than gasoline-powered versions. The E/RACING series will showcase Speedleague's engineering partnership with Vienna, Austria-based STARD (Stohl Advanced Research and Development).
Jackpot Rising launched its tournament platform earlier this year. Built to ensure player protection, security, compliance, and fairness, the platform can integrate jackpot tournaments into any game, including the company's own proprietary iOS and Android mobile games, custom branded games, and third-party game content.
As Speedleague continues its worldwide growth, Jackpot Rising will update the game and incorporate new race locations, tracks, vehicles, and stadiums that are added to the league. The release of the Speedleague game is scheduled for late 2017.
About Jackpot Rising Inc.
Jackpot Rising is bringing real money entertainment to the new age via its patented tournament platform that enables players to play games and compete against each other in real-money jackpot tournaments driving engaging, social competition. The platform is omni-channel, making Jackpot Rising one of the only companies in the world with the ability to offer a suite of competitive tournaments and esports across a wide variety of gaming verticals, including Mobile, PC, Console, and Arcade. Jackpot's solution creates an exciting and thrilling player experience where "It pays to be a winner." The Company works directly with game developers, studios, entertainment venues, brands, and others to deliver new age gaming entertainment both on premises and off premises.
Jackpot Rising is based in Dallas, Texas. For further information visit www.jackpotrising.com and follow @JackpotRising on Facebook, Twitter and Instagram.
About SpeedLeague
Speedleague is an international motorsports organization founded in 2015 by Global Rallycross Championship creator Brian Gale. The league's highly respected personnel have deep experience in event production, sports media and competition management in all major forms and levels of international motor racing. Activities for Speedleague include sanctioning and organizing E/RACING, a new electric-powered rally car racing series, as well as white-label organizing, building venues and sanctioning races for ESPN X Games. Speedleague events are geared to kick off this fall, including the Shootout @ Old Tucson: UTV Grand Prix in Tucson, Arizona on Dec. 2nd & 3rd, and will travel to at least five North American cities by the end of 2018.
Speedleague is based in Denver, Colorado. For further information visit www.speedleague.org.
Media Contact
Brandon Harper, Operations – Jackpot Rising Inc.
Tel: +1 214-923-4705
Email: Brandon@JackpotRising.com
Source: Jackpot Rising Inc.
Related Media
Additional Links