IWON Organics Releases New Protein Puff Snack Nationally
Press Release
•
updated: Sep 4, 2018
Proven Innovator in Popular, High Protein Savory Snacks Introduces New Product Line with Launch of the First Ever Organic Protein Puff in Partnership with GNC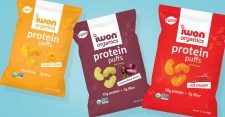 CORTE MADERA, Calif., September 4, 2018 (Newswire.com) - Iwon organics, a proven leader in the high protein snack market, announced the release of delicious, new protein puffs. The savory additions to iwon's protein snacks will be available in three intense flavors: cheddar cheese, caramelized onion, and red pepper, and build on the company's unique track record of success in providing innovative snacks with superior taste. All three flavors will be available in more than 4,500 GNC stores at the beginning of October.
"Our newest product continues the iwon mission of building an industry-leading savory protein snack company," stated Mark Samuel, founder and CEO of iwon organics. "Our new protein puffs stand out in this fast-growing snack category as the first organic protein puff. This better-for-you version offers more protein and fiber, fewer carbs, and after all that's said-and-done, brings you unmatched flavor."
For health and fitness consumers eager to try this exciting new snack, the protein puffs will be formally unveiled at the September Olympia Fitness & Performance Weekend in Las Vegas. Samples of both the protein puffs and the sought-after "greatest tasting protein chip, ever" will be available at this iconic venue for athletes seeking great flavor and function in their protein snacks.
In addition to the GNC and Olympia roll-outs, the protein puffs will be available to health and fitness enthusiasts in 4-5 other countries by the beginning of October. The iwon expansion into global markets will set a new standard for protein snack consumers worldwide who are dedicated to increasing their energy and building muscle.
This rapid growth is supported by a nutritional profile that differentiates iwon protein puffs from the competition. The new snack boasts 10 g of protein, 5 g of fiber and vegan options. All three flavors are formulated with plant-based proteins, using non-GMO ingredients that sustain the company's mission of putting the health of the consumer first. But iwon doesn't stop there - the new puffs further outperform competitors as soy-free, gluten-free, and corn-free.
iwon's newest savory on-the-go protein snack is just the beginning of a pipeline of innovation that will continue to offer athletes and health-conscious consumers great nutrition, taste, and texture. These leading-edge developments include a stealth-mode product that will transform the protein snack landscape. Together, these products will drive the company's powerful momentum going into Q4 of this year and Q1 2019.
iwon organics' protein snacks are available in health clubs, nutrition stores and grocers throughout the country, as well as Amazon and iwonorganics.com. For a list of store locations near you, please visit: https://iwonorganics.com/apps/where-to-buy.
About iwon organics:
iwon organics is a pioneer in successfully formulating savory, high protein snacks that combine great taste with the healthiest plant-based proteins and certified organic and non-GMO ingredients. Our snacks are soy-free, gluten-free, have little to 0 sugar and we have multiple vegan flavors. As discerning shoppers with active lifestyles continue to make informed choices about their food sources, iwon offers them an on-the-go protein snack that doesn't sacrifice flavor.
We choose to source clean, sustainable, non-GMO, organic ingredients because we want to ensure that when consumers snack with us, they are enjoying the healthiest possible ingredients, keeping them on track to feel great as they meet their health and fitness goals.
For more information visit: http://iwonorganics.com
Press Contact:
Mark Samuel
415.786.3382
msamuel@iwonorganics.com
Related Media