Ivo Totev, President, LoB Marketing, SAP, to Keynote SAPinsider Event
Press Release
•
updated: Feb 27, 2019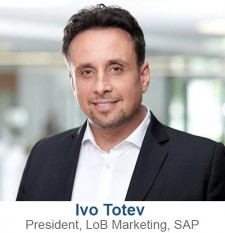 DEDHAM, Mass., February 27, 2019 (Newswire.com) - Wellesley Information Services (WIS), a leading market research and intelligence firm specializing in enterprise software technologies, including the largest independent membership site of global SAP users, SAPinsider (www.SAPinsiderOnline.com), announced today that Ivo Totev, President, LoB Marketing, SAP, will keynote the event taking place March 19-21 in Las Vegas at The Bellagio.
"I am delighted to have this opportunity to share our strategies and vision with so many SAPinsider members," said Ivo Totev. "These annual events are vital to bring the community together, address key insights for our customers, and provide guidance for optimizing the path to becoming intelligent enterprises."
"Ivo Totev's role as President, LoB Marketing at SAP, defining the strategy and vision for the SAP Line of Businesses such as Digital Core, Digital Supply Chain, Analytics and Platform Technology, makes him an ideal keynote for our annual event. The insights he provides for our SAPinsider members will arm them with the expertise to make better business and technology decisions," said WIS President and CEO, Jamie Bedard. "Ivo's contributions, alongside Alison Biggan, President, Corporate Marketing at SAP, will provide an exceptional opportunity for our SAPinsiders to hear directly from key members of SAP's leadership team. Insider teams including Financials, GRC, HR, Administration, BI, and Analytics will all be at the event, gaining key insights from industry experts across all of these disciplines."
Over 1500 attendees will be joining the event, sharing expertise and gaining insights as Insiders lead the global discussion on selecting, implementing, integrating and operating enterprise technology solutions. The March event combines five distinct programs for teams optimizing SAP solutions including:
· Finance and accounting
· Governance, risk, and compliance
· Human resources and human capital management
· Basis and SAP administration
· Business intelligence, reporting, and SAP HANA
Individuals and teams interested in learning more about the event are encouraged to visit www.SAPinsiderEvents.com for more details.
About WIS:
Wellesley Information Services is owned by JAZ'D! Advisors Investment Corporation and has a 20-year history of delivering top-quality content that helps individuals and teams strengthen their skills and make the right decisions for their organizations. WIS specializes in SAP users and SAP solutions serving a global audience, offering a diverse set of resources including live SAPinsider events, focused research, lead generation, marketing intelligence, user memberships, display advertising, publications, webinars, and a full portfolio of digital marketing services.
SAP is a registered trademark of SAP SE in Germany and several other countries. Wellesley Information Services is not affiliated with SAP SE or any of the SAP SE group of companies.
About JAZ'D! Advisors Investment Corporation:
JAZ'D! Advisors Investment Corporation, led by industry veteran Jamie Bedard, recently acquired 100% of WIS with a significant investment earmarked to spur long-term growth and innovation. JAZ'D! is a strategic investment and operating company with significant funding from a portfolio of leading technology and investor industry veteran members. JAZ'D! acquires leading companies focused on the technology user community, research, content, and digital marketing services spaces. JAZ'D! takes an ownership position in select companies with the goal of operationally integrating and innovating the companies into a comprehensive marketing and membership platform addressing the go-to-market needs of global technology organizations.
Source: Wellesley Information Services