Ivacy Releases New Add-On; Dedicated IP Now Available for Purchase
Press Release
•
updated: Jun 8, 2018
Ivacy users now have the option to get the newly released dedicated IP add-on for a small price, thus creating new possibilities and further securing user's online presence.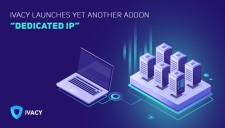 SINGAPORE, June 8, 2018 (Newswire.com) - Ivacy has released yet another add-on, Dedicated IP, which can be bought separately apart from its existing VPN service. Internet users can utilize this add-on to benefit from a specific IP address of their choosing to meet their needs and requirements, rather than having to make do with a static IP address.
The add-on is perfectly suited for individuals and businesses that wish to restrict access to their networks through allotted IP addresses. What this does is that it prevents any and all IP addresses from gaining access to a particular network, except for those that have been allotted and have been authorized to do so in the first place. Other applications include and are not limited to:
I'm confident about where the company is headed and let me tell everyone that there is more to look forward to. It will not be long before Ivacy becomes the 'premiere' cybersecurity provider for everyone's internet needs, considering how the company supports complete security, anonymity, and an unrestricted internet for all.

Bilal Khan, Assistant Vice President of Ivacy
· Secure Online Banking
Restrict access to your online bank account by limiting it to a dedicated IP.
· Home Security Protection
Protect any and all IoT related devices at home by remotely accessing them via a dedicated IP.
· Secure Remote Access
Access networks and files securely from anywhere in the world using remote access through a dedicated IP.
· Database Server Security
Protect your database by restricting it to accept traffic from a dedicated IP of your choosing, thus preventing hackers and cybercriminals from doing any damage.
· Better Brand Reputation Management
Personally maintain your brand's reputation by taking charge of your IP address, ensuring you always remain in control, no matter what.
Ivacy has kept well on its promise to release new and advanced security features along with upgrades for existing ones. Previously releasing updates for its Windows, Android, iOS and Kodi app, Ivacy has ensured that its service as a whole work with any and all platforms. The launch of Dedicated IP is just another step forward in making it possible for its customers to enjoy the secure and unrestricted internet.
Source: Ivacy