It's National Marriage Week--Campaign to Promote Marriage and Its Success
A campaign to promote the benefits of marriage to reduce poverty and benefit children.
Press Release
-
updated: Feb 6, 2017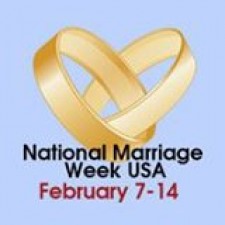 NEW YORK, NY, February 6, 2017 (Newswire.com) -  
NATIONAL MARRIAGE WEEK USA is this week —February 7th to 14th--a campaign to promote the benefits of marriage, increase marriage education nationwide and build more marital success, which reduces poverty and benefits children.
 
"National Marriage Week USA is a great time to get the word out as to why we must be concerned about the decline of marriage in America, and the ways to help people have more marital success," said its executive director, Sheila Weber. 
The annual campaign has been covered by national TV, radio and print publications regarding the drop in marriage rates, the costly loss of two-parent families for children, and ways to help couples avoid divorce.
"We want to get the word out to help as many people as we can," said Weber. "Through our website, www.nationalmarriageweekusa.org, couples can find help to strengthen their marriages, and anyone can make a difference to help others." 
National Marriage Week USA promotes that:
·         Marriage must be part of the conversation about the economic divide—that marriage lifts women and children out of poverty. The Brookings Institution says we'd have 25% less poverty today if we had the marriage rates we had in 1970. Get info at main website under Research and Newsroom.
·         The campaign has the ONLY online National Marriage Calendar where all groups can list and locate for free any marriage class or event all across the nation!  See hundreds of 2017 events with more to come at http://www.nmwusa-calendar.org/
·         The campaign is building a movement of all marriage education efforts across America: the goal is a marriage class in every town like fireworks on the Fourth of July!  NMW does not promote any curriculum of its own, but elevates the ones that already exist.  Concerned Americans can start their own class or event with easy-to-use videos and workbooks suggested at http://www.nationalmarriageweekusa.org/classes-and-dvds
·         The alarming statistics—with 41% of all babies born outside of marriage today, and an enormous drop in the marriage rate, why we should be concerned about the decline of marriage.  View our FACT SHEET and WATCH this 4-minute information video.
·         In 2017, the campaign is promoting a message that "Marriage is Worth It" with video clips from couples who sent in their own ideas, viewable in this 4-minute montage:  https://www.youtube.com/watch?v=y0AyiD2nJbs
Executive director Sheila Weber has been a guest on more than 500 national radio and TV shows.
MEDIA CONTACT: 
Sheila Weber, Executive Director,
National Marriage Week USA (Feb. 7-14),
sheila@nationalmarriageweekusa.org
646.322.6853
###
Source: National Marriage Week USA (Feb. 7-14)
Share:
---
Categories: Local News, Faith, Marriage, Family
Tags: Campaign for marriage, Family, Marriage, Marriage Courses, Marriage Week, Poverty, Reduce divorce, stronger marriages, Valentine's Day
---