ISSA Launches the First Certification of Its Kind - Fostering Inclusivity in Fitness
Press Release
•
Jul 11, 2023
Bringing Awareness and Education on the topic of Diversity and Inclusion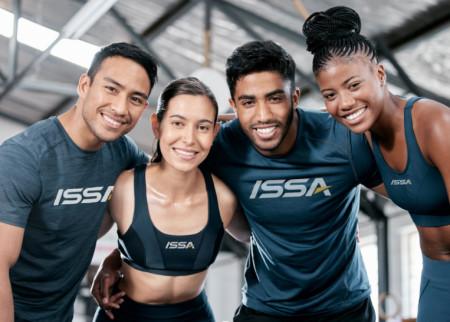 PHOENIX, July 11, 2023 (Newswire.com) - The International Sports Sciences Association (ISSA), the global leader in online fitness and wellness education, brings to market a fundamental and impactful new course - Fostering Inclusivity in Fitness - giving fitness professionals the tools they need to create an inclusive environment and ensure that wellness and exercise are accessible for all individuals.
No other fitness organization to date offers this training opportunity to raise awareness of the inequities, exclusion, and disservice that often occur in fitness spaces. Starting with knowledge and an ongoing commitment to education and consciousness, ISSA and dedicated fitness professionals everywhere can begin to impact change and offer all clients the opportunity to focus on their wellness and exercise goals while feeling safe and welcome.
Says Fitness Industry Inclusivity Champion, Chrissy King, "Prioritizing diversity and inclusion matter in every facet of life, but even more so in the wellness space, because health and wellness are such an integral part of our lives. The benefits of wellness, whether it be movement, nutrition, or mindset, extend to every single human being and allow individuals to feel energized, whole, empowered, and nourished in their bodies. This course will help you feel equipped to not only help your clients meet their fitness goals but to reach those goals while feeling respected, affirmed, and celebrated."
Topics covered include: Fitness is for Everyone, Implicit Bias - Identifying our Blankspots; Understanding Racism and its Impact on Health; Addressing Racism in Our Lives and in Fitness; Diversity and Inclusion in Fitness, Social Identities; and Navigating the Work of Diversity and Inclusion. Participants will receive and experience video scenarios, example conversations, video lectures, a Terminology Reference Guide and more.
This program is designed for any practitioner - not only for those who wish to teach but also for those looking to learn more about incorporating diversity and inclusion in fitness spaces, and in their own lives.
###
About ISSA:
The International Sports Sciences Association (ISSA), is the global leader in online fitness and wellness certifications. For over 30 years, ISSA has been committed to delivering comprehensive, cognitive, and practical education that's grounded in industry research. Rooted in Certified Personal Training certifications, ISSA offers over 50 fitness and wellness certifications and specializations, including a Yoga Alliance recognized Yoga 200-Hour Teacher Training Course, Certified Personal Training en Español, Health Coaching, Nutrition, and more. ISSA has educated nearly half a million trainers across 176 countries, while driving toward their vision to connect 100 million people to the power of healthy living by 2030.
Source: International Sports Sciences Association