ISSA Announces New International Distributor Partnership With ModuVated Fitness
Press Release
•
updated: Sep 12, 2023
Bringing ISSA's Spanish-Translated Certified Personal Trainer Education to Mexico to Empower Aspiring Fitness Professionals to Enter the Industry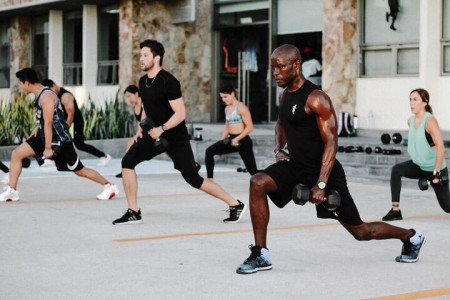 PHOENIX, September 12, 2023 (Newswire.com) - The International Sports Sciences Association (ISSA), the global leader in online fitness and wellness education, has teamed up with Mexico's premier health and wellness brand ModuVated Fitness to educate and up-skill aspiring fitness professionals in Mexico.
This month, ISSA Education Professionals will travel to ModuVated's state-of-the-art facilities in Cabo San Lucas and provide their bilingual instructors with intense in-person training and the tools necessary to teach ISSA CPT courses live as a supplement to the ISSA online course and exam.
This new program effectively opens opportunities for aspiring fitness professionals to follow their dreams and enter the fitness and wellness industry.
"This collaboration is a wonderful opportunity for ISSA to distribute our new Spanish-translated CPT in Mexico via ModuVated's highly esteemed trainers and reach more individuals looking to establish careers in fitness," said Kurt Mangum II, Director of Partnerships for ISSA.
For the past 14 years, Senegal native Modu Seye has developed ModuVated Fitness with a vision to provide healthy, happy, and confident lifestyles for all. Seye says, "We are thrilled to partner with the global leader in fitness education, ISSA. Together, we're raising the bar in Mexico ensuring that top-notch, well-trained professionals help our community reach their goals."
"At ISSA, our mission is to empower people to improve lives through fitness, wellness, and nutrition and this partnership helps us to reach more individuals to do just that," said ISSA CEO Andrew Wyant.
Find out more about ISSA's Spanish-translated personal training course here.
###
About ISSA:
The International Sports Sciences Association (ISSA) is the global leader in online fitness and wellness certifications. For over 30 years, ISSA has been committed to delivering comprehensive, cognitive, and practical education that's grounded in industry research. Rooted in Certified Personal Training certifications, ISSA offers over 50 fitness and wellness certifications and specializations, including a Yoga Alliance-recognized Yoga 200-Hour Teacher Training Course, Certified Personal Training en Español, Health Coaching, Nutrition, and more. ISSA has educated nearly half a million trainers across 176 countries while driving toward their vision to connect 100 million people to the power of healthy living by 2030.
Source: International Sports Sciences Association