iSkysoft Data Recovery 5.0 Officially Released: Advanced Features and Improved Recovery Rate
Recently, iSkysoft has released an advanced and improved version of its flagship data recovery tool - iSkysoft Data Recovery 5.0. Now, the tool has a far better interface and provides quick results under all kinds of scenarios. With the latest update, the company is sure to expand its reach in the expanding data recovery industry.
Press Release
-
updated: Jun 22, 2019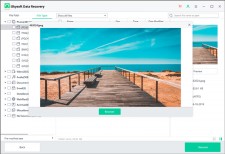 SHENZHEN, China, June 22, 2019 (Newswire.com) - When people talk about data recovery, iSkysoft is one of the first brands that come to their mind. Now, the company has come up with an improved version of the data recovery tool with a wide range of features to offer. With this, it is expected to meet the growing needs of its existing users and generate more leads as well. Apart from a more user-friendly interface, a major upgrade has been done on the recovery algorithm. It has also extended its support to more external devices, disk formats, and other data types.
While working on iSkysoft Data Recovery 5.0, engineers have tested thousands of different data loss scenarios. According to the company, different tested results were obtained related to all sorts of hard disks, disk formats, data types, and more. It is after the completion of this extensive process, a surefire data recovery algorithm was devised for iSkysoft Data Recovery 5.0
The Major Upgrades in iSkysoft Data Recovery 5.0
Even though the old version of iSkysoft Data Recovery offered numerous features, there was some scope of improvement left. The latest version of iSkysoft Data Recovery 5.0 has tackled the existing problems with some of these modern solutions.
·         Intuitive One-click Recovery
This is the first thing that the users would notice on iSkysoft Data Recovery 5.0. Now, users can simply select a location to scan right from the welcome screen. This will let them perform data recovery with just a single click.
·         Fast and Better Recovery Results
One of the major upgrades in iSkysoft Data Recovery is about the speed and the overall efficiency of the data recovery algorithm. Compared to its previous version, iSkysoft Data Recovery 5.0 would yield more positive results in a few minutes.
·         Bigger Preview
Users can preview their photos, videos, and documents on the native interface of iSkysoft Data Recovery and save selected files. The new interface features a far bigger and a better preview of data.
·         Systematic Categorization
Now, the preview of the data would be listed on the basis of different file systems (compared to data types). For instance, users can browse the data related to an APFS, NTFS, HFS+, exFAT, or any other disk format.
·         Extended Support
There are several other evident updates in the new version of iSkysoft Data Recovery. The application supports all sorts of external devices like SD cards, digital cameras, pen drives, hard disks, camcorders, GoPro, and more. Users can also recover raw data from these external sources.
How to Get iSkysoft Data Recovery 5.0?
You can download the latest version of iSkysoft Data Recovery 5.0 directly from iSkysoft data recovery official site.  The basic version of the tool is available for free and supports leading Windows as well as macOS models. Users can buy its Pro version for as little as $39.95 a year, while the Ultimate version is available for $59.95 only. Both the versions support an unlimited recovery of data, but users can create a bootable media with the Ultimate version.
What is the Utility of iSkysoft Data Recovery 5.0?
The new update has certainly improved the overall utility of the application. Users can take the assistance of iSkysoft Data Recovery 5.0 to get their lost, deleted, and inaccessible content back under all kinds of scenarios. This includes situations like accidental data deletion, corrupt storage, virus attack, lost partition, formatted disk, and so on. Apart from Mac or Window's hard drive, it also supports data recovery on external sources as well.
Samantha, who is one of the users of the new application, has said, "I'm delighted with the new update of iSkysoft Data Recovery 5.0. It has helped me get back all the lost content, including the raw photos from my digital camera. The product gives marvelous results in less time and is far better than other recovery tools in the market." With the new update of the tool, the company expects to fulfill the growing expectations of the users and win them over in the coming days.
About iSkysoft
Founded in 2004, iSkysoft is one of the leading tech firms in the world, knowing for its professional utility products. The company is focused on developing research-oriented tools to make the life of its users a whole lot easier. It has its presence in over 231 countries and is used by millions of people the world over. The iSkysoft Data Recovery application and iOS/Android Toolkit are some of the flagship utility tools of the company.
Source: iSkysoft
Share:
---
Categories: Computers and Software
Tags: data recovery software, iSkysoft data recovery new update, recover deleted files, sd card data recovery
---