iSEEK Corporation Launches CADseek Adviser Live-Search
Press Release
-
updated: Oct 15, 2018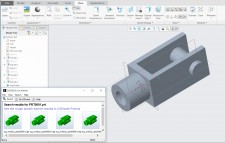 AMES, Iowa, October 15, 2018 (Newswire.com) - iSEEK Corporation is pleased to announce its newest 3D shape search product, CADseek Adviser Live-Search, which automatically triggers a real-time shape search whenever the design in an active CAD session is modified to change its shape. This is illustrated in the accompanying video.
Using CADseek Adviser Live-Search, the shape search activity becomes part of the normal workflow of the designer instead of requiring a conscious decision on their part to search an existing database for similar objects.  When an existing part is loaded into a CAD system or saved by the designer, a shape search is triggered. And when the part in the active CAD display is modified by extrude, revolve, sweep, mirror or other shape-changing action, an updated search is conducted with the thumbnail images and part names displayed in a small strip superimposed on the CAD workspace.
If the designer spots a suitable design identified by the live search, it can be imported to the CAD system for further inspection and analysis. The existing design found by the live search might then be selected to replace the one initially created in the active CAD session, saving the time and money required to complete a new design and take it through all the steps into production.
When asked about iSEEK's strategy, Dr. Christopher Just, VP of Product Development, replied, "In our product development effort, we place an emphasis on performance and scalability equal to our consideration of functionality. CADseek Adviser Live-Search delivers real-time performance for our CADseek shape search functionality during an active CAD modeling session while maintaining scalability for deployment in a global enterprise environment."
iSEEK Corporation has developed a number of shape-based products including CADseek Polaris and CADseek Connect which can operate in standalone mode for the classification and shape search of CAD datasets; CADseek Analytics for analysis of entire datasets for detection of duplicates and highly similar designs; CADseek Mobile that is able to search a 3D database using a 2D photo of a physical object as input; and ShapeID that can quickly identify a physical object and others with similar shape from a QR label. Each of these products can also incorporate attribute information to initiate a search or filter the final results of a shape-based search.
For more information or to request a web demo of any of these products, visit the website at www.iseekcorp.com or e-mail info@iseekcorp.com.
Source: iSEEK Corporation
Share:
---
Categories: Engineering
Tags: CAD, Design Engineering, Part Management, Part Reuse, PLM, Product Design, Shape Search, Supply Chain Management
---