Inventor of Dark Gums Treatment has Raised Patients' Confidence and Self-Esteem
Press Release
•
updated: Nov 8, 2016
Dr. Alex Farnoosh, Beverly Hills cosmetic dentist and USC periodontology professor, invented a permanent, non-laser black gums treatment.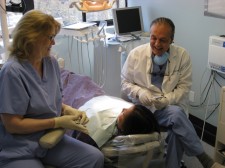 Los Angeles, CA, November 8, 2016 (Newswire.com) - ​​​​​​​​In the past 25 years, Dr. Alex Farnoosh of Beverly Hills has worked on remaking the smiles of over a thousand patients from around the world, many of whom seek him out for additional cosmetic work.
The reason is that his methods are something of a marvel. Visual results from his treatments far outlast others in his field. Dr. Farnoosh specializes in a patented form of gum lightening "bleaching" that he developed himself, published and yields much more effective results than laser treatments that are used to treat gum discoloration. His method for gum bleaching he invented is closely guarded, but his body of work and research speaks for itself in before-and-after case studies he closely analyzes. His treatment was featured on TV's 'The Doctors', which the show's host described as "magic" and permanent. His work have also been published and showcased in the "International Journal of Periodontics" and NY Times best selling book "Billion Dollar Smile".
The impact on self-esteem and confidence can be tremendous.

Dr. Alex Farnoosh
Dr. Farnoosh said that although his procedures are often referred to as 'gum bleaching,'--the term he introduced-- it's actually more correctly described as 'gum lightening'. He clears dark gums through a dermabrasion technique performed after medicating the problem areas. The procedure is typically fast, safe, not usually painful, and the work is permanent.
"With my method, there is little recovery time, no major discomfort and, best of all, the discoloration doesn't return," Farnoosh told Doctor of Dentistry Magazine. "The impact on self-esteem and confidence can be tremendous."
A case-in-point is that of A.L., an 8-year-old girl who was bullied by her friends because of the color of her gums. Upon request of the patient and her mother, she received the gum lightening treatment. The result was a happy patient and a boost in confidence and self-esteem. Please see the photos below for the case study.
Primary causes for dark gums are genetic traits with contributing factors such as smoking and medications. Since the procedure is cosmetic, ideal candidates should have healthy teeth and not have any form of gum disease. To properly qualify patients, Dr. Farnoosh provides thorough evaluations in order to approve candidates and craft a plan specific to a patient's mouth condition.
In addition to his gum discoloration treatments, Dr. Farnoosh is also known for pioneering a widely used treatment of lowering high lip lines to minimize excessive display of gums otherwise known as "Gummy Smile". In addition, reshaping the gum line & crown lengthening can be done to reduce excessive gums. He uses a specialized procedure that lowers the lip line known as "Lip Lowering" or Lip Re-positioning, which have proven to make a major difference in appearance. His research and treatment of Gummy Smile patients date back to 1996.
As owner of both the 'Dark Gums' and 'Gummy Smile' specialty practices, Farnoosh often provides dual treatments. Many patients are drawn back by the lasting quality of the work, returning for other cosmetic treatments such as implants and treatment of various forms of periodontal diseases such as receding gums.
For press inquiries, please contact:
DrAlexFarnoosh@yahoo.com or call (310) 657-0503
Source: Dr. Alex Farnoosh
Related Media
Additional Links