InventionShare's Portfolio Client Circuit Seed Announces Successful Temperature Testing and Confirms Circuits Are Insensitive to Temperature Variation
Press Release
•
updated: Jun 12, 2018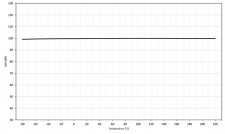 IPBC Global San Francisco , June 12, 2018 (Newswire.com) - Greg Waite, CEO and Founder of InventionShare, announced today from San Francisco at the Intellectual Property Business Congress (IPBC Global 2018), that after extensive testing of Circuit Seed's test chip, which included the Circuit Seed Trans-Impedance Amplifier, the circuit is insensitive to temperature variation. The Circuit Seed Trans-Impedance Amplifier is a very simple device (just 3 CiFETs) for low power application and, unlike many other devices, does not need any correction circuitry for temperature correction. These designs are ideal for use in harsh conditions and for a variety of applications where heat may or may not be an issue. Other Circuit Seed designs to build exponential innovations using various configurations which include the CiFET including ADC, DAC, CiOpAmp, PLL, modulators, filters, etc. would have similar results.
These tests are important for many reasons. At low temperatures, the practical operation of devices and circuits is reasonably achievable providing the appropriate materials and designs are used. At high temperatures, the practical upper-temperature limit is determined by many factors in addition to the inherent temperature limit of the semiconductor material. The limit is frequently determined by the interconnections and packaging, both for active devices and passive components. Battery power insulation and protection is always a challenge at both extremes. Circuit Seed designs demonstrate the ability to perform consistently across a wide temperature range but still require "best practices" for layout, interconnections, packaging and battery power considerations. For normal temperature operation, Circuit Seed designs help by ensuring analog circuit performance is not impacted by temperature since the low power supply and power consumption of these circuits generate less heat, making it more resilient to overheating.
This is great news for Circuit Seed and for future uses of Circuit Seed circuit configurations where extreme heat and temperature variations from unpredictable sources can impact the operations of specific applications.

Greg Waite, Founder and CEO, InventionShare
Mr. Waite said, "This is great news for Circuit Seed and for future uses of Circuit Seed circuit configurations where extreme heat and temperature variations from unpredictable sources can impact the operations of specific applications. Heat can come from various sources and affect circuits in different ways, especially as circuit boards are assembled with increasing density in efforts to make smaller, lighter circuit designs. Heat can be generated by a component mounted to the circuit board, or from a source external to the circuit board. For example, many devices will cease operation in hot temperatures. This test really adds to the value proposition associated with Circuit Seed where the circuits will continue to operate regardless of conditions, especially if they are used in areas of extreme heat such as in automotive, defense and space applications."
The temperature testing was completed on the Circuit Seed test chip by Desert Microtechnology Associates in Phoenix, Arizona and the test results confirm the circuit is insensitive to temperature variation. The chip was fabricated on GlobalFoundries' 130nm process. The Circuit Seed Trans-Impedance Amplifier that was tested also had an iRatio of 4:1. The temperatures tested were from -80°C to +220°C in 20°C increments. It should be noted that this exceeds the range for defense certification. The input current went from -25 µA to +25µA in steps of .02 µA using a 1.2v power supply. This generated a table of 250 elements measuring the input and output voltage. The trans resistance gain dB was then computed using the formula 20*Log10(Vout/Iin) for each element.
The difference between the maximum gain and minimum gain across all temperatures was computed and averaged to 3.626 dB with a high value of 8.304 dB and a low value 0.232 dB. Since the average gain was 92.834 dB, the average temperature variation is only 3.91 percent. If we only look at the normal operating current of +/- 10 µA the results are even more impressive. The full test results can be found at https://bit.ly/2Lo6g0N and at https://bit.ly/2sFmevD including plots for a selected µA value. The example plot for 7.4 µA is shown in the diagram supplied with this release. Test chips are now available for further testing.
Keith Taylor, Vice President of Licensing and Acquisitions said, "We find these results very encouraging and they demonstrate that we have very robust circuit designs with Circuit Seed that can be used in a variety of applications where sensitivity to temperature is important."
Through InventionShare, Circuit Seed is currently socializing the inventions and working with several OEMs, semiconductor and sensor manufacturers and is looking to partners for broad adoption of the technology in a variety of industry areas.
About InventionShare
InventionShare functions as a perpetual and exclusive 'Breakthrough Invention Fund' that creates and develops 'Invention Companies' rather than high risk 'Operating Companies'. This approach dramatically accelerates the adoption of breakthrough technologies by augmenting the innovation pipeline of large global companies – for extraordinary financial outcomes and high social impact. We do this by attracting and representing credible senior inventors with a track record, through our 'inventor friendly' success-based model, and we support, amplify, protect and validate their seminal inventions with non-dilutive financial capital – in stark contrast to operating companies. The dramatic financial and social leverage we achieve is through our deep and distinct intellectual and relationship capital, industry and IP expertise, intelligence tools, process, diligence and discipline.
About Circuit Seed
Circuit Seed enables a new portable family of building block circuit designs for processing low power analog signals in an all-digital domain. It is based on a new complementary current field effect transistor (the CiFET) with a channel fusion for fully integrating analog functionality with unique properties while eliminating separate analog chips and external components on the circuit board. Noise is markedly reduced, and sensitivities are considerably increased. The CiFET designs use 100 percent digital transistor channels to overcome many traditional analog restrictions – including parametric variations, leakage current, and temperature sensitivities. In addition, current designs require matched transistors and current mirrors for precision – while providing ultra-linear response over an extended dynamic range and the capability of operating at low supply voltages below 800mV with low power consumption at any threshold voltage.
About the Intellectual Property Business Congress (IPBC Global 2018)
IPBC Global is an annual event. The 2018 Business Congress is taking place in San Francisco from June 10 to 12. This top-level event addresses issues at the cutting edge of IP value creation and management. It brings together acknowledged IP thought leaders from around the world in an atmosphere specifically designed to facilitate the exchange of ideas and experiences.
For more information contact Keith Taylor, Vice President of Licensing and Acquisitions at ktaylor@inventionshare.com. For more information on this release contact Kensel Tracy at ktracy@inventionshare.com.
Source: InventionShare