InventionShare Client AcceleRoute Releases Network and Data Center Performance Simulation Results Showing Up to 80% Data Throughput Gain Over Traditional Data Center and Switch Designs
Press Release
•
updated: Apr 30, 2018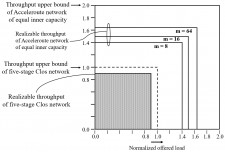 San Diego , April 30, 2018 (Newswire.com) - Mr. Greg Waite, Founder and CEO of InventionShare, announced today at the Licensing Executives Society International (LESI) conference in San Diego, that its client AcceleRoute has released a comprehensive data traffic simulation report demonstrating results that show a 55% to more than 80% throughput gain using an AcceleRoute data center switch design system, in comparison with a conventional system of equal inner capacity.
Mr. Waite said, "What we are seeing today is an unprecedented migration to Cloud services. Critical infrastructure support is essential, and this report confirms that AcceleRoute data center and data center switch designs can increase throughput considerably. AcceleRoute network infrastructure addresses the key drivers for data center and global network evolution, specifically when it comes to intense high throughput low latency applications that require performance, speed, connectivity and consistent throughput."
Critical infrastructure support is essential, and this report confirms that AcceleRoute data center and data center switch designs can increase throughput considerably.

Greg Waite, Founder and CEO, InventionShare
The AcceleRoute invention portfolio consists of 9 invention families protected by 25 issued patents and 7 patent applications. The inventor is a world-class network and switch designer with over 110 issued patents in the United States, and significant industry experience at Nortel Networks. The invention designs are based on a new orthogonal connectivity high performance architecture for data centers using COTS components that allows efficient source node determination improving performance by shortening the distance and by reducing the number of the internal ports hops (3 plus to 1 plus) by connecting to all the access nodes to all other switch nodes. This eliminates any requirements for buffering (all buffering is done at the edge nodes). In each design, the control data traverses only one hop where routing diversity and network congestion is virtually eliminated. Reduced complexity results in ease of network management, ease of network expansion, high port utilization, reduced power consumption, reduced network cost, and better overall performance.
The simulation report includes several parameters. The system configuration parameters include: a number of switch planes; a number of dual inner channels from each access node; a number of dual ports per switch unit; desired flow-rate granularity in terms of the smallest fraction of the capacity of an inner channel which may be allocated to a flow; selection of a connectivity pattern of access nodes to core switch units; and a number of switch units to be disabled for studying hypothetical hardware failure scenarios. The operational parameters, including routing options, showed that they could also be user-specified.
The user-specified external traffic characteristics include source destination affinity parameters (spatial traffic distribution) and inter-arrival temporal variation. Monitoring performance metrics include: internal traffic distribution among switch units; mean and coefficient of variation of traffic flow for inner ports; proportion of connections established through simple paths each traversing only one intermediate switch unit; processing effort in terms of mean number of attempts per connection; fairness under overload conditions in terms of throughput for origin-destination pairs, and assurance of a virtually-nonblocking routing function.
Mr. Keith Taylor, VP Acquisitions and Licensing said, "The report explains in detail the operation and organization of the traffic simulator. The approach clearly reflects the experience of the inventor, Mr. Beshai, and his Nortel background. The report further reviews the five-stage CLOS-type network architecture that is the industry standard architecture for large-scale data centers. The actual throughput gain of an AcceleRoute network switch varies from 1.4/0.9 to 1.64/0.9 which represents a throughput gain of 55% to more than 80% improvement compared to the realizable capacity of the CLOS-type network of equal inner capacity." The diagram attached outlines this.
Additional information included a study of thirty configurations ranging from 200 access ports to 31,360 access ports which clearly indicated that the throughput gain increases as the number of access ports increases.
Mr. Taylor said, "The simulation results may be analytically extrapolated to determine the superior performance of configurations of much larger scale. An envisaged global network would scale to 100 million access ports, each access port supporting 100 simultaneously active terminals communicating at 100 megabits per second. Likewise, an envisaged large-scale data center would scale gracefully to a throughput of hundreds of petabits/second, which is pretty significant."
Mr. Waite said, "This is a timely study showing significant improvement in the increase of traffic flow and provides the basis for using these designs for massive scalability without compromise. The industry needs to deal with the ever-increasing burden of the internet from new and unimagined technologies. AcceleRoute is an important cleantech invention family that has significant commercial and social impacts as energy costs for data centers continue to rise and the amount of traffic processing continues to increase."
Through InventionShare, AcceleRoute is interested in partnering exclusively with one major company or a consortium of industry leaders with a goal of helping alleviate the problems associated with world's appetite for increased data processing. The 60-page report is available at Simulation Results for review and download.
For more information on specifics relating to the study or on AcceleRoute, contact Keith Taylor, Vice President of Licensing and Acquisitions at ktaylor@inventionshare.com. For more information on this release contact Kensel Tracy at ktracy@inventionshare.com.
About InventionShare
InventionShare functions as a perpetual and exclusive "Breakthrough Invention Fund" that creates and develops "Invention Companies" rather than high risk "Operating Companies." This approach dramatically accelerates the adoption of breakthrough technologies by augmenting the innovation pipeline of large global companies for extraordinary financial outcomes and high social impact. We do this by attracting and representing credible senior inventors with a track record, through our 'inventor friendly' success-based model, and we support, amplify, protect and validate their seminal inventions with non-dilutive financial capital – in stark contrast to operating companies. The dramatic financial and social leverage we achieve is through our deep and distinct intellectual and relationship capital, industry and IP expertise, intelligence tools, process, diligence, and discipline.
About AcceleRoute
AcceleRoute addresses the key drivers for data center and global network evolution, with emphasis on performance, throughput, and lower energy consumption. AcceleRoute network architecture lends itself easily to software-defined-networking (SDN) implementation. The AcceleRoute invention portfolio consists of 9 invention families protected by 25 issued patents and 7 patent applications. The inventor, Dr. Maged Beshai, is a world-class networking and switch designer with over 110 U.S. issued patents and significant industry experience at Nortel Networks, and as an independent inventor.
About the Licensing Executives Society (LES)
For more than 50 years, LES has been the leading association for intellectual property, technology, and business development professionals to achieve professional and personal success. LES is an independent, professional organization that facilitates global IP commerce through education, networking, standards development, and certification. The Annual Conference is taking place in San Diego, April 29 to May 1, 2018.
Source: InventionShare