Introducing Your 2021 Ms. and Mr. Health & Fitness
Press Release
•
updated: Aug 19, 2021
A competition benefitting Jared Allen's Homes for Wounded Warriors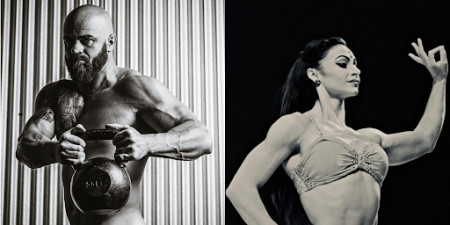 LEWES, Del., August 19, 2021 (Newswire.com) - After weeks of competition for both male and female athletes respectively, the winners of the Ms. and Mr. Health & Fitness competitions are ready to be crowned.
Elizabeth Cauchois has been voted the 2021 Ms. Health & Fitness. This fierce entrepreneur, Cirque du Soleil soloist, and mother is redefining the meaning of fitness by empowering people to reconnect their minds and bodies to adopt healthier and sustainable lifestyles. With the support of her following, she came out on top. Cauchois is running home with the title, the cash prize of $20,000, and the cover of Muscle & Fitness HERS magazine.
"It's not something I could do or claim on my own," said Elizabeth. "I received so much feedback from the community that followed me on this journey, and to win this title is incredible!"
After four consecutive years of running the Ms. Health & Fitness competition, the company offered the opportunity to male athletes to earn the title of Mr. Health & Fitness, a two-page spread in Muscle & Fitness magazine, and $20,000. Shea Taylor has been voted in as the first-ever Mr. Health & Fitness. As an amputee, fitness has allowed him to continue to be active and never take life for granted. Shea is a lifelong athlete and continues to inspire and motivate others to face challenges head-on.
"Winning this competition is such an honor. It's just unreal," he said of taking the top spot in the competition.
The winners were decided by the public through an online voting process. Not only did the experience provide a platform for men and women in the fitness community to share their stories and gained exposure, it also benefitted Jared Allen's Homes for Wounded Warriors in the process. A portion of the proceeds from both competitions was donated to this non-profit organization that provides accessible housing for veterans wounded during their service.
The Ms. and Mr. Health & Fitness competitions would not be possible without the help of the amazing sponsors: Magnum® Nutraceuticals, NEBBIA™, JAWKU, WOLFpak™, and FLEO.
Those interested in learning more about these competitions can visit Ms. Health & Fitness or Mr. Health & Fitness for more details.
Source: Ms. Health & Fitness