Interstate Capital Answers the Question - Who Uses Factoring?
Interstate Capital, one of the largest invoice factoring firms in North America, answers the frequently asked question 'Who uses factoring?'
Press Release
-
updated: Feb 14, 2018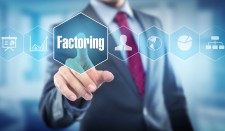 SANTA TERESA, N.M., February 14, 2018 (Newswire.com) - Lots of companies factor their invoices to get paid upfront for completed work: Big companies, small companies, new companies, old companies. Factoring promptly turns a company's accounts receivable into money in the bank without incurring debt, making this a very popular cash flow solution with all kinds of companies.
Any business-to-business company that delivers a product or service to another company can be a good candidate to take advantage of this financing strategy. If a company issues invoices and offers payment terms to their customers, that company can enjoy the benefits of invoice factoring. Companies in a variety of fields rely on factoring, including – but not limited to – the following industries:
Trucking
Manufacturing
Staffing (office, janitorial, medical, IT, factory and other specializations)
Health care
Oilfield services
Construction
Wholesale/distribution/import-export
Produce/agricultural and food products
Government contracting
Who uses factoring? Millions of companies around the world. Financial consultants have seen that invoice factoring – or accounts receivable factoring as it is sometimes called – is especially cost-effective and productive when a company fits certain scenarios. Factoring is a common business tool for companies in the following situations:
Fast-growing company lacking working capital to complete orders
Small business needing back office solutions, such as collections, credit checking and real-time record-keeping
New company with no credit history or business track record
Company with customers that require long payment terms, up to 60 or even 90 days
Company with seasonal ups and downs
Company needing upfront money for expansion, new hires, R&D, construction
Company that needs to purchase more equipment or inventory
Company with no collateral
Company with financial issues such as past-due taxes, certain kinds of liens and low credit scores
Company that has been turned down for lines of credit or loans from banks
Regardless of a company's industry or financial situation, invoice factoring represents a reliable debt-free financing solution.
That last point is an important one. Since factoring applicants are evaluated on the creditworthiness of their customers rather than their own, companies with past financial challenges – but dependable paying customers – find that the doors to factoring are wide open. Since factoring bridges the financially risky gap between completing a job and getting paid for it, companies with cash flow difficulties can maintain operations and set aside funds for unexpected expenses and growth.
Regardless of a company's industry or financial situation, invoice factoring represents a reliable debt-free financing solution. The factoring specialists at Interstate Capital, one of North America's leading factoring firms, can help business owners decide if factoring is the right cash flow solution for their company. Since 1993, more than 10,000 companies have chosen Interstate Capital as their factoring partner for financial peace of mind and growth. 
Press Contact:
Interstate Capital
Phone: 800-422-0766
Source: Interstate Capital
---
Categories: Funding, Finance, Business Finance
Tags: factoring company, factoring partner, invoice factoring
---