International Association of Women Celebrates Simplify Your Life Week With Virtual Event
Press Release
•
updated: Aug 20, 2021
IAW to host free, virtual event on Saturday, Aug. 28, 2021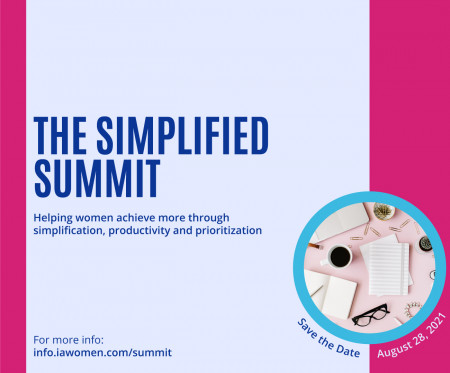 CHICAGO, August 20, 2021 (Newswire.com) - In celebration of National Simplify Your Life Week earlier this month, The International Association of Women is hosting the Simplified Summit on August 28. This free, virtual event will help working women achieve more through simplification, increased productivity, and more effective prioritization.
On the heels of 2020, with millions of women leaving the workforce because of the competing demands of work and home, we want to empower women to better their lives through simplification.
Simplify Your Life Week is observed during August of each year. This holiday encourages those who need to refocus their lives and declutter, which doesn't just mean objects. The idea is to eliminate anything that causes stress or anxiety. Most of us have a tendency to clutter up our lives, both physically and psychologically.
All event attendees will receive 20% off a gold or platinum plan from IAW partner and event sponsor Trustworthy. Trustworthy provides you with a Family Operating System,™ which offers everything you need to keep your family organized and prepared — in one place.
During the event, keynote speakers Rose Lounsbury, Kim Becking, and Dr. Adia Gooden will set the tone for simplification across all areas of our lives. Workshop hosts Robin L. Owens, Ph.D. and Mary Dee will offer practical tips for productivity and prioritization. There will also be two panel discussions (Stop Reloading the Dishwasher and Making Health Feel Less Like a Chore) geared toward helping women prioritize tasks related to caring for themselves and others.
As a part of the event, IAW will host a pop-up shop with inspirational apparel and merchandise for sale. All proceeds from the pop-up shop will benefit the Hey There Beautiful Foundation, a 501(c)3 not-for-profit empowering women and young girls to achieve their life goals through education, motivation, self-awareness,and self-development.
To register for the summit and learn more, visit info.iawomen.com/simplify.
About the International Association of Women
The International Association of Women (IAW) is a global in-person and online professional networking platform that provides women the forum, professional development, and services needed to thrive in an interconnected world. Members cultivate valuable connections, develop professionally, and promote themselves and their businesses.
Source: International Association of Women