Interior Designer Samia Verbist Helps Spruce Up Spaces With Coffee Table Book Displays in Orange County
Press Release
•
Oct 11, 2022
Noted Huntington Beach interior designer Samia Verbist explores the decorative capabilities of coffee table displays, books, and overall decor that brings a room together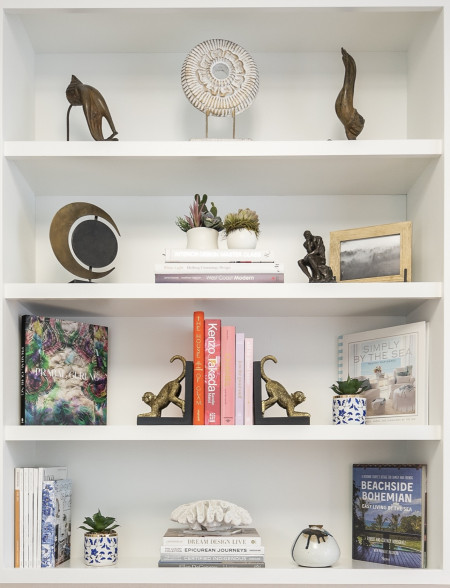 HUNTINGTON BEACH, Calif., October 11, 2022 (Newswire.com) - French interior designer Samia Verbist, the founder of Samia Verbist Interior Design in Orange County, recently expounded on the value of a well-placed coffee table book display.
The article is the latest in a long line of subjects near and dear to Verbist's heart. Whether it's powder room ideas that set rooms apart or designing an outdoor space using interior design techniques, Verbist sets herself apart from her contemporaries.
In the article featured on her blog, titled Designing a Coffee Table Book Display, the Huntington Beach interior designer explains how versatile coffee table book displays are.
And while people think of coffee table books as strictly belonging to coffee tables in living rooms, Verbist quickly dissolves that long-held notion. After all, mixing and matching and subverting expectations is what she does best.
"Although we have taken to calling them coffee table books, they are not limited to the coffee table. In fact, I like to place them in many areas of the living space, like the bedroom or home office," says Verbist.
Choosing The Right Topics
A good coffee table book display is much more than a beautiful table with random books on them. Choosing the right coffee table books for a display, Verbist says, is the key to a comprehensive and detailed decor.
"Think art, fashion, architecture, design, landscaping, gardens, or travel," says Verbist of choosing different subjects. "For fashion coffee table books, overall reviews like a book on the history of fashion are good. But you can also look for more specific publications, like a dedicated book about Chanel or Dior."
Verbist stresses that keeping coffee table books strictly to coffee tables limits your design capabilities. "Although we call these coffee table books, they work just as well on other surfaces," she says. "You can place them on console tables or entry tables for a big impact. Or create a display on the bookshelf, and I don't mean stand them up with the spine out."
These tips are a fabulous primer to the rest of Verbist's stunning work.
Samia Verbist: Knowing How To Bring A Room Together
Originally from Normandy, France, Samia Verbist knew that design was her passion from an early age. Surrounded by the arts, it was only a matter of time until she turned that passion into her life's work.
After establishing herself as a unique interior designer in France, she started Samia Verbist Interior Design in 2016, serving residents in Southern California.
By providing numerous services to help homes and businesses create warm, welcoming spaces, Samia Verbist exhibits her versatility and unique eye for what works.
Source: Samia Verbist Interior Design