Interactivity, Notes, GIF-Animation, Wistia Integration: Introducing New FlippingBook Publisher Release
Press Release
•
updated: Mar 13, 2018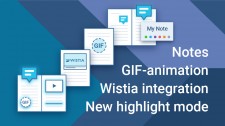 NEW YORK, March 13, 2018 (Newswire.com) - FlippingBook, a company that develops professional software for converting PDFs into interactive online documents, has just released a new version of FlippingBook Publisher. The company keeps developing its products and introduces the latest FlippingBook Publisher release dedicated to interactivity.
All the new features are focused on making FlippingBook documents more compelling, interactive and capturing readers' attention at first sight.
Here are the new features of the release:
Notes
While browsing a document, the readers can now place a note anywhere on the page and capture their quick thought right away. Notes serve well for bookmarking important info, adding comments and questions while working with training or educational materials. This way, the educational documents become as easy and comfortable to work with as printed textbooks. In product catalogs, notes help the clients mark the items they are interested in while looking through the pages, and get back to them while making the purchase.
GIF-animation
To make the documents more interactive and eye-catching the marketers are now able to embed GIFs into them. Animated GIFs can be used to illustrate complex ideas in an easy way – for example, to explain new concepts or data in educational or training materials. In catalogs, GIFs can help showcasing products, enticing readers and adding an element of delight and humor to the document.
Wistia integration
The more video formats, the better interactivity. Videos, stored on Wistia, can now be embedded into FlippingBook documents along with YouTube and Vimeo videos.
New highlight mode
The interactive elements on a page of a document got a new convenient highlight mode. It's very helpful to see what's clickable on a page and it makes finding links and popup images even easier and more intuitive.

About FlippingBook
FlippingBook started out in 2004. Since then, it has developed FlippingBook Publisher and FlippingBook Online: a professional software and web-service for turning PDFs into interactive HTML5 documents. Its clients are a vast range of companies from many different industries, including manufacturing, real estate, healthcare, education, and retail. For more information visit https://flippingbook.com.
Media Contact:
Anna Konovalova - Content marketer
Email: akonovalova@flippingbook.com
Resources
Source: FlippingBook
Related Media
Tags
Additional Links