FlippingBook Online Launches an App for Sales Teams to Share and Track Sales Collateral
Press Release
•
Aug 29, 2023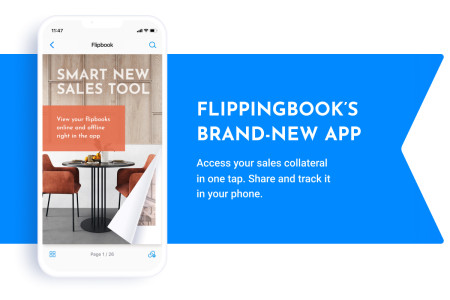 NEW YORK, August 29, 2023 (Newswire.com) - FlippingBook, an online tool for creating digital flipbooks, announces a new app for sales teams. Now, sales reps can share any document through the app and track how and when leads interact with their collateral for effective, timely follow-ups. The app is available for both FlippingBook clients and trial users.
Sales teams use FlippingBook to create sales collateral from PDFs and share it anywhere. And the app allows them to get trackable individual links to business proposals, pitches, or other sales materials in seconds and send those links directly to prospects via email or any messenger. Instant push notifications inform sales reps when the link is opened, and in-built stats help to track lead engagement in real time. Thus, sales teams learn what interests their prospects the most in their proposals, so they can make informed decisions to drive conversion.
Designed to be a handy tool, FlippingBook's app helps to streamline different tasks sales reps handle on a day-to-day basis:
Share documents in one tap. Sales reps can easily access sales collateral in the app and share it on the go between meetings. Since the documents are available as direct links, the app eliminates the need to send bulky attachments.
Use powerful in-built stats. With detailed analytics, sales reps will know when exactly a prospect opens a document, see which pages get the most attention and which links get the most clicks. So they can follow up with the right knowledge at hand.
Get offline access to the documents. Documents are available offline within the app, so sales reps can access the content anywhere, even during meetings in remote locations with no Internet connection. Thus, carrying around printed copies is no longer necessary.
Keep documents up-to-date. Sales reps always have access to the latest, most relevant versions of catalogs and proposals that they can share with leads. Whenever a document is updated, sales reps receive a push notification about it. The updated document is available under the same link, so there's no need to resend anything to prospects.
FlippingBook's mobile app is an essential instrument for sales reps who need to have trackable content at their fingertips. The app simplifies all sales processes and increases sales.
About FlippingBook
FlippingBook is a powerful tool for creating professional digital flipbooks used in business communications. More than 63,000 customers from 190 countries use FlippingBook to create interactive online documents and deliver content on the web. FlippingBook helps small businesses as well as large renowned brands across various industries. For more information, visit flippingbook.com.
For media inquiries, please contact alina@flippingbook.com.
Source: FlippingBook