Inspiring Lung Cancer Event Held at Boston's Iconic Prudential Center
Press Release
•
updated: Dec 2, 2016
At the 10th anniversary of the Shine A Light on Lung Cancer event in Boston, inspiring speakers shared their stories with the public in the hope of raising awareness of lung cancer, the number one cancer killer in the United States. RadonAway, a division of Spruce Environmental Technologies, Inc., was one of the sponsors of the event, distributing free radon test kits to attendees.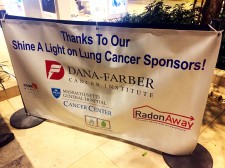 Ward Hill, MA, December 2, 2016 (Newswire.com) - ​​​​The average person takes 673 million breaths in their lifetime. Most never think twice about the natural act of breathing, but for more than 158,000 Americans this year alone who have died or will die from lung cancer, breath is literally a matter of life and death. Even though lung cancer is the top cancer killer of both men and women, awareness of and funding for the disease are lacking when compared with other leading cancers. Shine A Light on Lung Cancer events seek to change this.
"I realized how precious life was, and how precious breath was," said Emcee Jordan Rich (host of The Jordan Rich Show on Boston's WBZ NewsRadio 1310), kicking off the Shine A Light on Lung Cancer event held at the Prudential Center in Boston on Wednesday, November 30th. This event, hosted by Lung Cancer Alliance and LUNGSTRONG, is one of over 200 Shine A Light events held across 38 states during the month of November. Shine A Light works to bring together people affected by lung cancer to share their stories and raise awareness in their community.
"I think the most important thing you can do is to tell your story. In sharing your story, you raise awareness."

Diane Legg, President, LUNGSTRONG
The first speaker of the evening was Dr. Alice Shaw, Director of Thoracic Oncology at the Massachusetts General Hospital Cancer Center, who advocates for revolutionizing patient care and saving lives through individualized treatment. Dr. Shaw was followed by lung cancer survivor, Laura Salvo, who earned a standing ovation after her moving story chronicling her brave and tireless battle with lung cancer.
"Cancer can happen to anyone. As much as I wish I didn't have to be on this journey, I have learned much about life and what is truly important," said Salvo, through tears, who was joined by her husband on stage. A nonsmoker, a lifelong athlete, and a follower of an organic lifestyle, Salvo is the embodiment of the fact that anyone can get lung cancer.
The final keynote speaker of the evening was former NFL player Chris Draft, whose wife, a nonsmoker, passed away several years ago from lung cancer. Draft is the Founder, President, and CEO of the Chris Draft Family Foundation (CDFF) and the Team Draft Initiative. Joking that he could not tell the lung cancer survivors in attendance from the other audience members, Draft highlighted the evening's message that lung cancer survivors look just like everyone else and that truly anyone with lungs is at risk for lung cancer.
Every speaker throughout the evening addressed the need to fight the stigma that lung cancer is only a smoker's disease. This fight is a familiar one for RadonAway, one of the major sponsors of the Shine A Light event. RadonAway, a division of Spruce Environmental Technologies, Inc., is a leading manufacturer of radon testing equipment and mitigation fans, as well as an international advocate for radon-induced lung cancer awareness.
"It's mind-boggling when you realize that so many people still don't know that radon is the leading cause of lung cancer for nonsmokers and the second overall," said Leia Jane Zidel, one of RadonAway's representatives at the event. RadonAway gave away free radon test kits during the evening's informational fair and spoke with attendees about the dangers of radon, found in hazardous concentrations in 1 of every 6 American homes. Even those attendees who had some knowledge of radon were surprised to learn that the radioactive, carcinogenic gas is responsible for 21,000 lung cancer deaths every year in the U.S. alone.
LUNGSTRONG Founder and event organizer Diane Legg summarized the evening with a statement about the importance of storytelling. "I think the most important thing you can do is to tell your story," said Legg. "In sharing your story, you raise awareness." Despite the somber tone of the lung cancer stories told throughout the evening, the overwhelming message was one of hope.
Attendees looked on as special guest Brandon King, second year Defensive Back and Special Teams for the New England Patriots, closed the evening by flipping the switch to light up the Prudential Tower with blue light for all those affected by lung cancer. The 920-foot tower stayed lit all night, shining blue over Boston through the fog – a fitting image of hope.
Source: Spruce Environmental Technologies, Inc.
Related Media
Tags
Additional Links