Inside the Jet Setting World of Billionaire Matchmakers Janis Spindel and Carly Spindel
Press Release
•
updated: Jun 5, 2018
From touring in style on their client's private jets to hosting exclusive events on one of their client's 210-foot yacht, all for a modest $1.5 million dollars.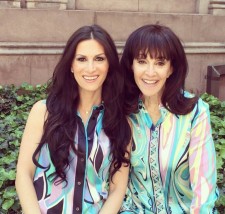 NEW YORK, June 5, 2018 (Newswire.com) - In your wildest dreams, you cannot imagine the magnitude of the dating industry viewed from the eyes of this mother/daughter matchmaking duo; it's a world in which the rich and famous dedicate their resources, energy, and heart into finding true love. Can money buy love? High powered, Uber successful men outsource service professionals to do just about everything on their behalf- from personal trainers to private chefs, and even in-house barbers, so why wouldn't they outsource not one, but two billionaire matchmakers to find the love of their life!?
"Business is booming at the high-end Matchmaking level," claims Janis. The Spindels have been mentioned by The New York Times as running Cupid's Wall Street Office, headquartered in New York and they state that it's a simple formula to operate at the very top. "There are over 1,500 matchmaking services all competing in a very crowded and noisy space. Many of those services are breeding grounds for gold diggers and sugar daddies. We stand out because we cater to the millionaires and billionaires who are marriage-minded and destined to find true love with the woman of their dreams" says Carly Spindel.
Recently, one of our billionaires chartered his private jet from Miami to London, and back, for a first date with his prospective wife. He put her up at the Connaught Hotel, as a true gentleman should do.

Janis Spindel, President and Founder
Janis and Carly have a very unique process that involves curating a program specific to each client's needs; the more customized the program, the higher the fee. They recently embarked on a Global Love Tour for their newest client, inclusive of nine US cities and seven European countries; this client transported them in style on one of his G5s in search of his future wife. Another client is shipping them off to Ibiza to host an exclusive party on his 210-foot yacht, entertained by one of the world's most renowned DJs; it is so exclusive that the location will not be revealed until the day of the event.
The Spindels will do whatever it takes to find each client's dream woman. From attending the opening ceremony at the Cannes Film Festival to mingling at the Chopard Party, the mother/daughter team is always in the right place at the right time. Whether they are at home in NYC, spending the summer out East in Bridgehampton, or jet setting to an exotic destination, they can be spotted shopping, bar hopping at the trendiest venues, and scouring the hottest cafes, spas, hair salons, gyms, and boutique workout classes until they find exactly what each client is looking for.
Their day begins at 6 a.m. and they stay up until all hours of the night conducting rigorous interviews with potential matches. Although they have worldwide scouts, there is a very thorough screening process and each woman must personally meet with either Janis or Carly before they can be set up with a client. Once they pinpoint the perfect woman, an enchanting date is arranged. "Recently, one of our billionaires chartered his private jet from Miami to London, and back, for a first date with his prospective wife. He put her up at the Connaught Hotel, as a true gentleman should do," gleams Janis with cockiness, knowing that she is the world's greatest. "It appears that the trend for human touch is back." Carly corrects her, stating "that element never left."
Interested in becoming a client? It's not as simple as fitting the bill; there is an intensive vetting process which includes an interview followed by an at-home visit to ensure that each potential client is marriage-minded. "We absolutely adore every single one of our clients, or we wouldn't waste our time. We are very selective about whom we choose to work with, and 10x more selective with the women that we match them with. We actually refuse more clients than we accept," says Carly Spindel.
Source: Janis Spindel and Carly Spindel Serious Matchmaking Inc.