Innovative NEW ZMorph 2.0 SX Multitool 3D Printer Release Date Revealed
Press Release
•
Apr 15, 2016
ZMorph 2.0 SX is the latest model of the Multitool 3D Printer from ZMorph, which sets a new standard for 3D printing machines with add-on capability.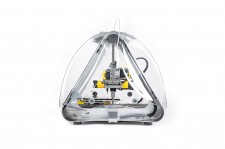 Wroclaw, Poland, April 15, 2016 (Newswire.com) - Leading Polish 3D printer manufacturer ZMorph is proud to announce their latest technological achievement - ZMorph 2.0 SX Multitool 3D Printer, which can be used for 3D printing, CNC milling, and laser engraving.
Aimed at both industry professionals and makers, this new machine is ideal for those who value high quality combined with versatility in an affordable desktop machine. The ZMorph 2.0 SX sets a new standard for multifunctional fabricators while retaining the 3D printing features that have made the ZMorph name famous for using both additive and subtractive manufacturing techniques.
ZMorph 2.0 SX Multitool 3D Printer is now available for orders with first machines shipping to customers in the beginning of May.
Advanced and accessible
The new ZMorph 2.0 SX is the most advanced, accessible and multifunctional fabricator designed and released by the company. Among the main features of the device is the new Closed Loop System which controls the exact position of the motors and the extruder head and recalculates every missed step that can occur during heavy-duty usage. This additional security solution based on encoders provides the most reliable way of manufacturing objects in the additive and subtractive process.
With its new, easy to use, color LCD Touchscreen on the side of the machine, the intuitive interface, and powerful free Voxelizer software, ZMorph users will obtain an unprecedented level of control over the manufacturing process.
Improved and upgradeable
The entire construction of the ZMorph 2.0 SX Multitool 3D Printer was significantly improved in order to make it a near perfect machine fit for digital fabrication in the office or home environment. All structural components are made from precisely machined and cut metal parts, with plastic parts now used only for non-critical items.
The work area is now fully enclosed, for safety, cleanliness and to provide a stable printing temperature environment. Lift-off front and rear covers provide excellent access while retaining all round visibility of the manufacturing process. A new filament guide system can be attached to filament spool holders mounted on each side cover.
Already known for their interchangeable toolheads, the company is enhancing that modularity with the ZMorph 2.0 SX offering backward compatibility for existing extruders, upgrade paths for suitable modules and additional features for forward compatibility such as a new expansion slot on the X-Carriage. Several plug-and-use add-ons will be made available such as additional filament monitors and fans, advanced extruders and experimental toolheads.
New rapid worktable change latches provide a precise location in conjunction with the interchangeable toolheads. They allow users to quickly change the function of the machine from 3D printer to CNC mill, to laser engraver without requiring extensive re-calibration.
New standard in digital fabrication
ZMorph 2.0 SX starts from 2390 EUR / $2690 / 9900 PLN and includes single 1.75 mm plastic extruder and CNC PRO milling toolhead, positioning the latest ZMorph Multitool 3D Printer as an attractive alternative to other digital fabrication and rapid prototyping machines, especially as it can replace three of them while saving both money and working space.
The full offer is available on zmorph3d.com and through ZMorph's authorized resellers.
Source: ZMorph
Related Media
Tags
Related Files
Additional Links