Inject Creativity Into Your Classrooom With the Latest Publication From EdTechTeam
Press Release
•
updated: Oct 16, 2018
Empower Students of All Ages to Tell Their Own Stories.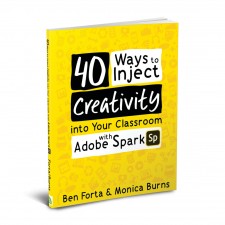 IRVINE, Calif., October 16, 2018 (Newswire.com) - Kids are natural storytellers, and with the right tools, teachers can help students of all ages harness that natural desire to share, get their creativity flowing, and produce meaningful examples of student voice and choice in the classroom.
Adobe Spark™ is a free, simple-to-use creation tool that integrates technology into the storytelling process at school. It is approachable, accessible, and most of all fun for kids, and it works on nearly any device found inside today's classrooms.
Ben Forta and Dr. Monica Burns, coauthors of "40 Ways to Inject Creativity into Your Classroom with Adobe Spark," introduce teachers to the incredible power and potential of Adobe Spark™. They show the ease with which technology can be integrated into the classroom setting and how to make student creation the driver of learning.
Easily accessible on web browsers, Chromebooks, and mobile devices, Adobe Spark™ gives students the creative power to design stunning videos, magazine quality web pages, and professional-looking graphics. Burns and Forta capitalize on Spark's intuitive, easy-to-use design and offer up "40 Ways to Inject Creativity into Your Classroom." Their fun and practical lesson plans and fifteen graphic organizers are suitable for a variety of ages and subjects and provide teachers a great way to hit the ground running with Spark.
With tips and suggestions and the encouragement of these experienced educator authors, teachers find all they need to inject creativity into student video book reports, web page "papers," video journals, science posters, and more.
About the Authors:
Ben Forta is Adobe Inc.'s senior director of education initiatives where he spends his time teaching, talking, and writing about Adobe products, creativity, and digital literacy. He also provides feedback to help shape the future direction of Adobe products. Forta is the author of more than forty books, with more than 750,000 copies in print in English and translations into fifteen languages. Many are used as textbooks in colleges and universities worldwide. Passionate about education, Forta dedicates his professional and personal lives to teaching, inspiring, and sharing his love for technology and creativity in the classroom and by lecturing and writing on education and development topics worldwide. Forta is a successful entrepreneur, with experience creating, building, and selling start-ups. He is a sought-after public speaker, writer, and blogger. Connect with Forta at www.forta.com or @benforta on Twitter.
Dr. Monica Burns is a curriculum and educational technology consultant, Apple Distinguished Educator, and founder of ClassTechTips.com. As a classroom teacher, she used one-to-one technology to create engaging standards-based lessons for students. She has presented to teachers, administrators, and tech enthusiasts at numerous national and international conferences, including SXSWedu, ISTE, FETC, and EduTECH. Burns is the author of several books, including Tasks Before Apps: Designing Rigorous Learning in a Tech-Rich Classroom. She visits schools across the country to work with pre-K teachers to make technology integration meaningful and purposeful. Find out more at ClassTechTips.com and connect with Dr. Burns @classtechtips on Twitter, Facebook, Pinterest, and Instagram.
"40 Ways to Inject Creativity into Your Classroom with Adobe Spark"
by Ben Forta and Dr. Monica Burns
$24.99 paperback
$9.99 eBook
ISBN: 978-1-945167-51-5 (paperback)
ISBN: 978-1-945167-52-2 (eBook)
For an interview with Dr. Monica Burns and Ben Forta, please contact press@edtechteam.com.
About EdTechTeam:
EdTechTeam, a California Benefit Corporation, is a global network of educational technologists with a mission is to improve the world's education systems using the best learning principles and technology available to inspire and empower educators to design personalized learning experiences for students. As an official Google for Education Professional Development Partner, EdTechTeam has delivered over 350 conference-style events and more than 500 smaller events to help educators realize the potential of Google for Education and technology.
Source: EdTechTeam
Related Media
Related Files
Additional Links