InfusionPoints Achieves Standard Consulting Partner Within the Amazon Web Services (AWS) Partner Network (APN)
InfusionPoints will leverage our APN Consulting agreement to help our customers Build, Test and Defend their workloads on AWS
Press Release
-
updated: Sep 5, 2018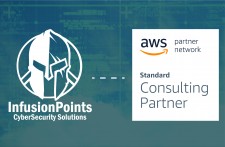 NORTH WILKESBORO, N.C., September 5, 2018 (Newswire.com) - InfusionPoints LLC, a leading cybersecurity, cloud computing, and FedRAMP consulting firm, today announced we are now a Standard Consulting Partner within the Amazon Web Services (AWS) Partner Network (APN). InfusionPoints will leverage our APN Consulting Agreement to help our customers Build, Test and Defend their workloads on AWS.
Earning the APN Standard Consulting Partner designation resulted from InfusionPoints' demonstrated level of expertise with the AWS platform through a combination of customer testimonies, professional certifications, and training program investments. InfusionPoints and our customers will also benefit from access to additional AWS support and training resources. As an APN Standard Consulting Partner, InfusionPoints is pursuing additional AWS competencies to provide further expertise and value to our customer base.
InfusionPoints cloud services focus on the following areas; cloud migration support, SaaS enablement, Federal market enablement and FedRAMP compliance support, and US-based, ITAR-compliant cloud monitoring and security operations support.
InfusionPoints' customers continue to yield measurable results from our cloud expertise to include significant FedRAMP compliance cost savings, more effective security operations knowledge, and a focused realignment on strategic business initiatives.
About InfusionPoints, LLC
InfusionPoints is your independent trusted partner dedicated to assisting you in building your secure and compliant business solutions, test your security controls and defend your consumer, employee, and supply chain information. We are a strategy and technology cybersecurity consulting firm that is comprised of experienced security professionals.  We take an independent approach to infuse security and privacy into the people, processes, and technologies within your business solution lifecycle to support decision making, and guide ongoing planning, design, implementation and operational activities. The foundation for infusing cybersecurity extends beyond simply providing traditional technology solutions; we empower the people who maintain, administer, and use the business solutions along with the processes that guide their activities.
Contact Us
To learn more about InfusionPoints' Cloud Solutions, please visit https://www.infusionpoints.com/solutions/secure-cloud-services.
For more information on our InfusionPoints' AWS Consulting Partner status, visit https://aws.amazon.com/partners/find/partnerdetails/?n=InfusionPoints&id=0010L00001kYE8nQAG
Or contact us at https://www.infusionpoints.com/content/contact-us or 336-990-0252.
Source: InfusionPoints, LLC
Share:
---
Categories: Business Security, Business Technology
Tags: AWS, Cloud, FedRAMP, IaaS, PaaS, SaaS
---