Inbornmedia Launches 4K HDR Trailer for Documentary About Polish Highlanders, 'Highlander - Polish Men of the Mountains'
The film was shot in 4K HDR and is available for worldwide distribution. Inbornmedia will be offering it at the upcoming MIPCOM in Cannes.
Press Release
-
updated: Sep 20, 2017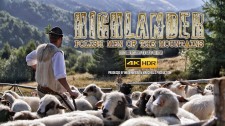 WARSAW, Poland, September 20, 2017 (Newswire.com) - Maciej Pawelczyk, TV producer, said – "I think it's time for TV productions to show audiences timeless traditions and the beauty of untouched, raw nature using the newest technologies. 4K HDR allows us to introduce people back to our most basic roots and traditional values in an aesthetically pleasing and compelling way. Producing in 4K HDR requires a different approach to the traditional shooting philosophy, as well as a different editing pace. The landscapes and time-lapses make such a great impression that, as an editor, you are obliged to give the viewer some time to take in and enjoy these views. We had been very enthusiastic about this technology since the very start of production, but a sense of genuine magic struck us when we watched the footage back at our post production studio at Big Blue Studios on the high-end Sony BVM X-300 monitor. We think this is the future for every home theater system, as opposed to the misguided 3D technology."
OFFICIAL TRAILER: https://vimeo.com/227738927/b30df16776
​The documentary is set in Podhale – the mountainous region of Poland inhabited by Polish Highlanders. This ethnic group is one of the most distinct in Europe, with their own unmistakable style of dress, economic trade, construction, culture and folklore. The film tells the stories of five men, each carrying out age-old, traditional professions such as wheelwright, shepherd or bagpipe constructor. It seeks answers to the current and pressing question of how these people manage to reconcile their Highland culture with the modern world.
Pawelczyk further added, "We are premiering this film at MipCom and we hope to sell it, as there is a big demand for 4K HDR content like this. If it succeeds, we are ready to take audiences to other places in the world – we have many conceptions ready and waiting for the greenlight."
About Inbornmedia
Established in 2005 by two film and television enthusiasts, Maciej Pawelczyk and Radek Wikiera, Inbornmedia is a TV production studio. Inbornmedia's productions include travel shows, culinary shows, reality shows and documentary series. They produce TV formats for broadcasters such as Discovery Channel, TVN, Polsat and TV Puls.
Source: Inbornmedia
Share:
---
Categories: Television, Broadcasting, Television Programs
Tags: 4K, content, documentary, film, gorale, gorals, hdr, high dynamic range, MIPCOM, MIPTV, program, television
---